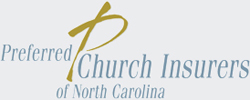 In today's environment it's never been more important for ministries to be proactive in protecting their church.
Winston Salem, NC (PRWEB) January 04, 2013
Preferred Church Insurers of North Carolina, a leading provider of insurance coverage for churches, schools and non-profit organizations across the state, recently offered key information on the importance of safety when it comes to church nursery furnishings and equipment. The insurance company discusses the most widely used types of nursery equipment and some important guidelines to follow that will ensure that current equipment is safe and any new or donated nursery equipment does not have any safety hazards that could jeopardize the safety of children who attend church.
Preferred Church Insurers of North Carolina recommends that changing tables have a protective barrier on all four sides and a safety belt or strap to prevent a baby from falling. In addition, highchairs should have a tray that locks in place and both highchairs and strollers should be equipped with a seatbelt.
Most significantly, children's ministry leaders should be familiar with the new mandatory standards for cribs and make sure that all cribs comply with the new standards by December 28, 2012, especially churches that operate a daycare facility and are receiving payment for services. These new mandatory standards were aimed to keep children safer in their cribs and prevents deaths resulting from detaching crib drop-sides and faulty or defective hardware.
Located below is a brief overview of recommended safety procedures for common nursery equipment:
Bassinets and cradles
-should have wide base to prevent it from tipping over.
-mattress should fit snuggly in frame
-rocking mechanism should have a locking device
Changing tables
-a protective barrier should be on all four sides
-safety belt or strap to prevent the baby from falling
Cribs
-By December 28, 2012, child care facilities must use only cribs that comply to these new standards
Highchairs
-should have a wide base for stability
-should be equipped with a strap that is independent of the tray, and the buckle should easily fasten and unfasten
-tray should lock in place
Playpens
-only use mattresses that have been provided by the manufacturer
-if using a mesh playpen, the mesh is less than ¼ inch in size and is attached securely
-never place a child in a playpen with soft bedding, such as quilts, as they increase the risk of suffocation
Strollers
-should have a wide base
-should be equipped with a locking mechanism
-breaks should securely lock wheels
-should be equipped with a seatbelt
"Children are some of the most precious members of a church's congregation and should, therefore, be well protected when in the nursery," said Keith Googe of Preferred Church Insurers of North Carolina. "Parents should not have to worry about their children's safety when they are worshipping. There are hundreds of types of nursery equipment on the market intended to be used with children. However, many of these products are used incorrectly, poorly designed, or over time their condition has deteriorated to a level where they are no longer safe."
Preferred Church Insurers is committed to providing information and insurance products that help protect churches, school and other organizations in North Carolina. For a free insurance rate quote or to speak with a Certified Insurance Counselor, call 1-888-496-7262.
About the company:
Preferred Church Insurers was founded in 1996 to meet the needs of churches, non-profit organizations, and private and parochial schools across North Carolina. The company specializes in church, liability, employment, casualty and property insurances and employee benefits.
Preferred Church Insurers maintains long-term relationships with their clients and continually evaluates insurance customer's needs to ensure that their customers remain adequately protected as each customer's businesses and church insurance needs evolve. They help customers determine what type and amount of insurance coverage needed - whether that customer is responsible for a 200 student private school or a church of 10,000 members. For more information, please visit their website at http://www.ncchurchinsurers.com/.