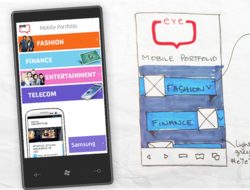 The FiddleFly team is ready and willing to help show businesses how to take hold of their mobile website projects.
Columbia, Md. (PRWEB) January 07, 2013
With 2013 primed to be the year of mobile (if 2012 wasn't already) businesses around the globe are recognizing the importance of creating dynamic mobile solutions. While the need has become ever-present, finding the time and talent necessary to create effective mobile experience is a very tall task, and that is exactly what persuaded the FiddleFly team to launch an industry-best mobile web design program.
While FiddleFly has long offered a software solution to designers and marketers allowing for rapid development of unique and exciting mobile sites, its focus now has expanded to taking on full-scale site build projects for companies in all fields. Having a focus solely on the mobile landscape allows the FiddleFly team to create some of the most exciting and inventive mobile experiences anywhere, and now with a design team that has nearly doubled in size, these projects can see their way to completion faster and more efficiently than ever.
There is a disturbing trend arising in the mobile web world of companies opting for templated or automated mobile web solutions. These options tend to leave sites looking dated (which considering the youth of the industry is quite remarkable) and are not as effective as custom built sites. In an attempt to fight against this compromise, FiddleFly is now offering free preview builds to any business that requests one.
The creative team will design and build a sample homepage as well as lay out the navigation for a business's mobile experience and present it before any agreement or transaction takes place at all. There are absolutely no obligations or requirements for these preview builds, simply a short form to fill out and one phone call from FiddleFly's team. More information is available at https://www.fiddlefly.com/partner/
With projections of mobile set to become the primary source of web traffic within the next five years, the emergence of specialized agencies such as FiddleFly is a much needed development. Mobile is the future and the now, and the FiddleFly team is ready and willing to help show businesses how to take hold of their mobile website projects.
About FiddleFly:
Since its inception in 2010, FiddleFly has been providing mobile web solutions to businesses around the world. From software to design to development to strategy, the FiddleFly team is assembled solely to help the world make the mobile web a better place.