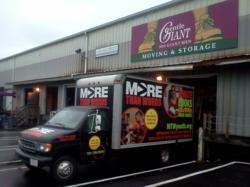 Gentle Giant Moving Company is in a unique position to help More Than Words
Boston (PRWEB) January 08, 2013
Gentle Giant Moving Company, an award winning moving and storage company based in Massachusetts with locations in nine additional states across the country, announced today that throughout 2013 they will continue encouraging their moving clients to donate unwanted used books to More Than Words, a nonprofit social enterprise that empowers youth who are in the foster care system, court involved, homeless, or out of school to take charge of their lives by working as a team to manage their own retail and online used book business, café, and community space.
Formed in 2004 to serve as a job training program for youth ages 16-21 who are either in the foster-care system, court involved, homeless, or out of school, More Than Words opened their original site at 376 Moody Street in Waltham, MA. Their second site, located at 242 East Berkeley Street in the South End, opened in November 2011, five months after Gentle Giant and More Than Words formed their partnership.
"More Than Words is in a position to truly help a lot of young kids looking for positive future opportunities," explains Gentle Giant Founder and CEO Larry O'Toole. "And Gentle Giant is in a unique position to help More Than Words, so this is a partnership we are excited to continue."
More Than Words benefits greatly from this partnership because Gentle Giant is able to communicate directly with people packing up before moving, which is a perfect time to think about donating unwanted books, CDs, DVDs, and games. The total number of known donations over the past year and a half from Gentle Giant customers is approximately 46,000 different items. In 2012 alone, the total number of donations was just over 30,000. Additionally, there have been over 60 repeat donors to More Than Words as part of Gentle Giant's diligence in encouraging their clients to donate books for More Than Words. The single biggest donation from a Gentle Giant customer was approximately 12,000 books in February 2012.
About Gentle Giant Moving Company, Inc.
Founded in 1980, Massachusetts Moving Company Gentle Giant is a premier residential and commercial mover, offering local moving, interstate moving, and international moving service. Named 2009 Independent Mover of the Year by the American Moving and Storage Association, one of the Boston Business Journal's Best Places to Work in Massachusetts in 2004, 2005, and 2006, winner of the 2006 International Torch Award for Marketplace Ethics by the Better Business Bureau, winner of the Better Business Bureau's Torch Award for Excellence in 2002, 2003, 2005 and 2008, nine-time winner of Boston Magazine's "Best of Boston," six-time winner of The Improper Bostonian's "Boston's Best Moving Company" award, twelve-time winner of the Angie's List "Super Service" award, and 2007 Top Small Workplaces award from the Wall Street Journal and Winning Workplaces, the company's services include craning, piano moving, complete packing services and unpacking services, and other related services. Gentle Giant offers storage facilities and dispatches crews from its 20 offices in California, Maryland, Massachusetts, New Hampshire, New York, North Carolina, Rhode Island, Virginia, Washington, DC and Washington State. For more information, please call (617) 661-3333 or visit http://www.gentlegiant.com.