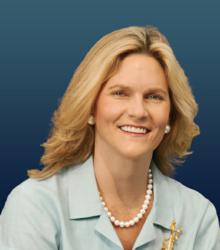 Potomac, MD (PRWEB) January 03, 2013
Healthy Directions, LLC, today announced that Connie Hallquist has been promoted from President to Chief Executive Officer and that Ben Teicher has been hired as the company's new Chief Financial Officer.
Ms. Hallquist, who joined Healthy Directions in 2010 as Executive Vice President of Merchandising, assumes the CEO position from Healthy Directions' Board of Directors member Pat Corpora, who was acting as the company's interim CEO. Mr. Corpora will resume his role on the Board.
"I am delighted and honored to be stepping into this leadership role at Healthy Directions, where we have an impressive roster of prestigious doctors who are formulating the highest quality nutritional supplements available and providing customers with natural health guidance," said Hallquist. "I am looking forward to a successful 2013, as we launch innovative new products, add new experts and expand into new channels."
As Healthy Directions' EVP of Merchandising, Ms. Hallquist oversaw brand strategy, product assortment, doctor relationships and new product development. Prior to joining Healthy Directions, she was President of New Business Ventures for Orchard Brands, a $1 billion privately held catalog holding company that served the mature market. Previously, Ms. Hallquist was Founder and CEO of Gold Violin, a direct marketer of helpful products for independent living and Managing Director of Prophet, a brand strategy consulting firm. She also worked in brand management at General Foods (now Kraft).
Mr. Teicher joins Healthy Directions following his tenure as CFO at Virginia-based Ratner Companies, the largest family-owned and operated chain of hair salons in the country with 900 salons in 16 states. Prior to that, he was CFO of Discovery Communications Education Division, Discovery Kids, Animal Planet, Planet Green and Consumer Products. Mr. Teicher's other experience includes serving as Vice President of Finance for Disney Store Worldwide and holding various finance positions with Nestle USA.
"I am thrilled to be joining the team at Healthy Directions," said Mr. Teicher. "The company is well positioned to take advantage of the growth trends in dietary supplements and anti-aging skincare."
"I am excited that Ben Teicher has recently joined us as CFO," stated Hallquist. "Ben brings a wealth of knowledge and experience from his previous financial positions at some of the best run companies in the world, including Discovery Communications, Disney and Nestle."
# # #
About Healthy Directions
Healthy Directions, LLC, a leading health publisher and direct-to-consumer retailer of doctor-formulated nutritional supplements and skincare products, is dedicated to helping people lead healthier, happier lives. The company provides expert guidance and advanced nutritional supplements from America's most knowledgeable and highly respected integrative and alternative health doctors including Julian Whitaker, MD, Dr. David Williams, Stephen Sinatra, MD, Susan Lark, MD and Aaron Tabor, MD. For more information about Healthy Directions, visit http://www.healthydirections.com.