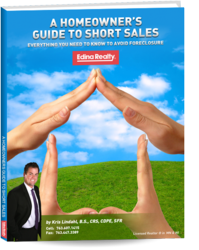 Getting this kind of information out to the public is a priority of mine and Thursday afternoon's seminar is the perfect opportunity
Blaine, MN (PRWEB) January 02, 2013
Edina Realty announced this morning that there will be a Bremer Bank short sale strategies seminar on Thursday afternoon. The seminar will be hosted by Edina Realty's number one short sale agent Kris Lindahl. Lindahl plans to cover Bremer Bank's short sale process in a step-by-step process so that it's approachable and understandable. Kris will also be taking general short sale questions. Personalized questions are welcome.
The seminar is expected to be very well attended. "I get a lot of questions via email about Bremer Bank,"Kris Lindahl says, and continues,"For that reason I'm excited to be hosting the seminar on Thursday afternoon." Kris plans to show the audience how to access and use several online resources that he's created for the general public's use. "Getting this kind of information out to the public is a priority of mine and Thursday afternoon's seminar is the perfect opportunity,"Kris said.
The Bremer Bank seminar is part of a larger campaign led by Kris Lindahl and his team of hard working, full-time Edina Realty realtors. Kris and all members of his team hold designations like the Certified Distressed Property Experts (CDPE), Short Sale & Foreclosure Resources (SFR), and Council of Residential Specialists (CRS).
Call Kris and his team at (763) 607-1415 for more information. Visit the Minnesota Short Sale Calculator website to check eligibility. Download a complimentary copy of the eBook titled ["A Homeowner's Guide To Short Sales" and check out the short sale video series on YouTube.