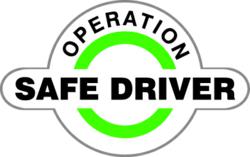 The majority of fatal crashes that involve large trucks and passenger cars are precipitated by the car driver.
Washington, DC (PRWEB) January 08, 2013
Law enforcement officials who pulled over nearly 35,000 commercial and passenger vehicle drivers during the Commercial Vehicle Safety Alliance's (CVSA) Operation Safe Driver (OSD) 2012 campaign in October found that passenger car drivers continue to speed at alarming rates around commercial vehicles. Data collected during this year's OSD weeklong event indicates that the top three reasons warnings and citations were issued to both commercial and non-commercial vehicle drivers were comparable to last year, however, there was a slight shift in the order of the violations. This year's totals continue to indicate that the number one violation for 2012 is Speeding, number two was Failure to Use a Safety Belt and number three was Failure to Obey a Traffic Control Device while operating their vehicle. In 2011, Failure to Obey a Traffic Control Device ranked second; Failure to Use a Safety Belt was third.
Stephen A. Keppler, CVSA's executive director said, "It's distressing that the number of passenger car drivers who break the law and put their lives and the lives of others in jeopardy while driving around commercial motor vehicles is still so high. The majority of fatal crashes that involve large trucks and passenger cars are precipitated by the car driver." Keppler explained, "One of our goals for Operation Safe Driver is to bring awareness to passenger car drivers that they needlessly put themselves and others in danger by failing to recognize that commercial vehicles and cars differ in their handling characteristics."
From the data collected by 2,918 enforcement personnel at 1,245 locations across the United States and Canada, the majority of warnings and citations were for speeding. Of all of the warnings issued, 70.1% were for speeding. The breakdown was 19.6% for commercial motor vehicle (CMV) drivers versus 50.5% for passenger car drivers. Compared to the 2011 data, this represents a slight increase of 2.8% for CMV drivers and a significant increase of 10% for passenger car drivers. Speeding accounted for 66.2% of all citations, with passenger car drivers issued 51.2% of the total and CMV drivers being issued 15%. This is a 10% increase over last year for passenger car citations.
Warnings for Failure to Use a Safety Belt represented 3.6% of the total number of warnings to CMV drivers and 1.9% of passenger car drivers. In addition, Failure to Use a Safety Belt was the reason 9.9% of citations were issued to CMV drivers and 8.3% were issued to passenger car drivers. These figures represent an increase in the number of recorded citations for both CMV and passenger car drivers over the previous year. The violation increases for safety belt use in CMV drivers are alarming, particularly since the last several years has seen a steady rise in the number of CMV drivers "buckling up."
For Failure to Obey Traffic Control Devices warnings issued, 3.6% were to CMV drivers and 1.9% to passenger car drivers. This translates to increases of 4% for CMVs and 1.5% for car drivers, which is relatively unchanged from the 2011 data. Failure to Obey Traffic Control Devices accounted for 4.7% of citations to CMV drivers and 2.3% of citations to passenger car driver counterparts.
"It is vital to educate the public about driving safely around large trucks and buses and that every driver maintains a sharp focus on safety," said FMCSA Administrator Ferro. "Always provide plenty of extra space for large trucks and buses to maneuver and to stop. Every driver must do their part so that every individual may reach their destination safely."
"FMCSA is proud to be part of a life-saving effort like Operation Safe Driver—which sends a strong message to all drivers to think safety first, every trip and every time," said FMCSA Administrator Anne S. Ferro.
Brian Neal, Chairman of the Operation Safe Driver Program, says the data clearly indicates the urgency for greater awareness and adoption of the programs and techniques that are available to educate the public about sharing the road with large trucks. Two initiatives, such as the Operation Safe Driver "Teens and Trucks" and "Defeating Distracted Driving" programs, can be leveraged to continue the safety effort around education and awareness. In addition, partnering with organizations such as the National Organization for Youth Safety (NOYS) will allow the Operation Safe Driver programs to reach critical driving populations as they develop their driving skills and habits.
Data was collected during the sixth annual Operation Safe Driver campaign held October 14-20, 2012. Operation Safe Driver was launched in 2007 by CVSA, in partnership with the Federal Motor Carrier Safety Administration, to address the problem of improving the behavior of all drivers operating in and unsafe manner—either by, or around, commercial vehicles—and to initiate educational and enforcement strategies to address those exhibiting high risk behaviors. For more information about CVSA's education and outreach programs for drivers, including the newly developed "Curbing Distracted Driving" young/teen driver training DVD which will be made available mid-January 2013, please visit http://www.operationsafedriver.org.
About CVSA
CVSA is an international not-for-profit organization composed of local, state, provincial, territorial and federal motor carrier safety officials and industry representatives from the United States, Canada and Mexico. Our mission is to promote commercial motor vehicle safety and security by providing leadership to enforcement, industry and policy makers. In addition, CVSA has several hundred associate members who are committed to helping the Alliance achieve its goals, uniformity, compatibility and reciprocity of commercial vehicle inspections, and enforcement activities throughout North America by individuals dedicated to highway safety and security. http://www.cvsa.org.