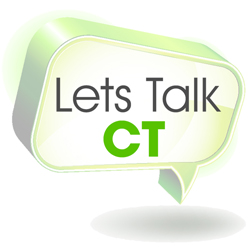 Wallingford, CT (PRWEB) January 08, 2013
Search engine optimization is ever-changing. Techniques adapt to algorithm revisions and overhauls, and new approaches emerge over the years. Social media, once relegated to personal use, is gradually intertwining with and becoming complementary to standard SEO strategies. Quality content and links, now, are the next terrain for optimization and social media, to an extent, as is local search. Let's Talk CT, a Connecticut-focused article marketing site that debuted earlier in 2012, has introduced a new SEO concept, one that bridges both article marketing and local visibility aspects.
Let's Talk CT was developed with two goals in mind: one, to offer standard article marketing services, and, two, to provide a platform for Connecticut businesses. Local search, particularly for websites with brick-and-mortar locations, is growing as a subset of SEO. Such companies aim to attract attention locally, drawing in customers from a particular group of towns, state, or metropolitan area. SEO techniques, such as location-focused keywords and content based on such terms, reflect this growing need, but pages about a specific location or locally-delivered service published to an all-encompassing article website tend to get lost or, worse, seem irrelevant to most readers.
Although such article marketing pages may be found on the search engines, the user browsing through the directory itself may not be searching with a local topic in mind. With Let's Talk CT, all content on the site is devoted to companies located in Connecticut or offering their services in the state. For the reader, articles are relevant exclusively to local topics and subjects. For the website looking to achieve better visibility, Let's Talk CT provides a relevant and consistent pool of readers who may be searching for a topic related to your business or services.
Since its inception, Let's Talk CT has continued to expand. Not only does the site have over 200 articles on it, it now has a list of featured companies. With a monthly theme, the list of featured companies links to multiple local websites, each offering services in Connecticut. Websites further receive a one-way link – an ever-growing, crucial aspect for ranking higher on the search engines – from Let's Talk CT. For December 2012, the theme was home improvement, general contract, and remodeling services, with companies Bang Some Nails, B&B Overhead Door, LLC, By Carrier, Clear Choice Exteriors, Connecticut Gutter & Exteriors, Horton Brasses, and Quality Furniture Company featured.
Submitting to Let's Talk CT, however, is similar to all other article marketing websites. Falling in line with the increasing need for quality, Let's Talk CT reviews all articles and lists standards and requirements for publishing, including word count, tone, and linking.
Search engine optimization and press release services provided by Keyword Performance.