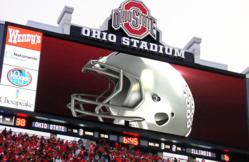 Ohio Stadium was an opportunity for Panasonic and Lighthouse to elevate the game day experience for Buckeyes fans.
Irvine, CA (PRWEB) January 08, 2013
LED Display leader Lighthouse and Panasonic have installed Lighthouse Impact 16 LED displays and two sets of LED video fascia at Ohio Stadium, the iconic "Horseshoe" home of Ohio State Buckeyes football.
On the banks of the Olentangy River and listed on the National Registry of Historic Places, stately Ohio Stadium is one of the most recognizable landmarks in all of college athletics. Unique in its double-deck horseshoe design, Ohio Stadium is both intimate and intimidating. The closeness of the seating provides a definite home-field advantage for the Buckeyes, at the same time allowing fans to view the game from unobstructed vantage points. The Panasonic/Lighthouse LED displays added to that home-field advantage, overseeing an undefeated season this past fall, the Lighthouse LED displays led the Buckeye faithful in traditional cheers – made modern through Lighthouse's advanced LED technology – and kept fans informed with scores and game updates around the Big Ten and the rest of the college football world.
"The quality of our SMD technology is so good that it extends the playing field," said Jim Doyle, President of Panasonic Eco Solutions North America. "This is one of the best video and audio systems in college sports."
The project, a collaboration of Panasonic, the world's largest electronics manufacturer, and Lighthouse, the leader in LED display technology, resulted in a main LED display screen measuring 124 feet wide by 42 feet tall, for over 5,200 square feet of stunning LED video – nearly doubling the size of Ohio Stadium's previous LED video display.
"Lighthouse is excited to work with Panasonic at Ohio Stadium," says Ed Whitaker, Lighthouse N.A.S.A. Director of Sales. "Ohio Stadium houses one of college football's great programs, and our collaboration with Panasonic and the Ohio State University has helped make a great stadium even better."
The Horseshoe's main LED display is built with Lighthouse's spectacular Impact 16 LED video panel, the United States' first waterproof SMD LED video chip for outdoor applications. With a wider viewing angle than non-SMD products, 6000+ nits brightness levels and a significant price advantage, the Impact series is ideal wherever long viewing distances are required, such as sports arenas, outdoor digital signage, advertising billboards, shopping malls and theme parks. Lighthouse's Impact series offers a large panel for quick installation, is IP65 rated, and provides front and rear access and easy-release IM structure for simple maintenance. The Impact 16's 16-bit processing technology heightens brightness levels, color contrast and image quality, making it ideal for indoor or outdoor venues with bright ambient light.
Panasonic and Lighthouse also included two LED video fascia displays, combining for 340′ linear feet of LED video. The fascia displays deliver coordinated, crystal-clear images, video, animations, live statistics and scores, with a special section designated for closed captioning.
"Ohio Stadium was an opportunity for Panasonic and Lighthouse to elevate the game day experience for Buckeyes fans," Ed Whitaker adds. "Combined with the game on the field, our technology makes a Saturday afternoon of Ohio State football tough to beat."