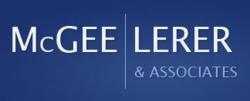 Long Beach, CA (PRWEB) January 02, 2013
McGee, Lerer & Associates has moved its Long Beach office to a new location. The firm's attorneys—a husband and wife team—have more three decades of combined experience helping injury victims pursue fair compensation.
The new office is located at 4401 Atlantic Ave., Suite 241, Long Beach, CA 90807. From that office, the firm is able to provide high-quality legal representation for residents of Long Beach and various surrounding areas. Those areas include Bellflower, Cerritos, Downey, Lakewood, Los Alamitos, Lynwood, Norwalk, Paramount, Seal Beach and Torrance. McGee, Lerer & Associates also has offices in Pasadena and Santa Monica.
The law firm handles cases related to many different types of injuries—from dog bites to sexual abuse. Whether a person was injured by a negligent driver on the road or by a defective product, McGee, Lerer & Associates' lawyers have the knowledge and experience needed to aggressively advocate for the victim. The firm's legal team also handles wrongful death claims and lawsuits, helping family members pursue just outcomes on behalf of loved ones who died because of the careless or reckless actions of others.
McGee, Lerer & Associates has obtained impressive results on behalf of its clients—the firm's lawyers have secured multi-million-dollar verdicts and settlements in previous personal injury cases they have handled. In addition to pushing for the best results possible in each case, the legal team also makes sure to provide personalized service to clients. Those retaining the firm are able to speak directly with a lawyer rather than constantly going through a secretary or an answering machine. The firm's services are available to English and Spanish speakers.
Attorney Daniel McGee worked for a leading personal injury law firm in California for 16 years before starting his own firm in 2001. He has experience handling very complex cases in and out of the courtroom and helping clients obtain verdicts worth millions of dollars. The experienced attorney, who is licensed to practice law in both state and federal courts, has served as a featured speaker at the annual Consumer Attorneys Association of Los Angeles convention in Las Vegas.
Attorney Catherine Lerer focuses on representing victims who have received very serious injuries. She has a wealth of knowledge within her field—she worked as a protégé for a top personal injury trial attorney in Los Angeles for more than 20 years before starting McGee, Lerer & Associates. Attorney Lerer has tried or settled more than a thousand cases. Learn more about the firm and its attorneys by visiting http://www.longbeachinjuryfirm.com.