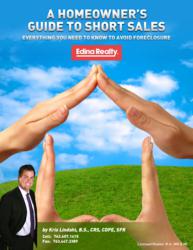 The extension of this act means that homeowners will not have to pay taxes on forgiven mortgage debt through 2013
Blaine, MN (PRWEB) January 02, 2013
Kris Lindahl, Edina Realty's number one short sale agent, was excited to see that, as part of the 11th hour dealings to avoid the fiscal cliff, lawmakers have extended the Mortgage Debt Relief Act through 2013. President Obama is expected to sign it shortly. "This is great news,"says Kris Lindahl. "The extension of this act means that homeowners will not have to pay taxes on forgiven mortgage debt through 2013," Kris explains.
The Mortgage Debt Relief Act was set to expire on December 31, 2012 and would have put millions of homeowners in an undesirable situation. With its extension, homeowners can take a breath of relief. "I've been watching this situation very closely for the past year," Kris Lindahl said, and continued, "I was very happy to see it extended in the 11th hour." The extension will now be in effect until January 1, 2014.
Kris Lindahl and his short sale team are hard working, full-time Edina Realty realtors. Kris and his all members of his team hold the designations Certified Distressed Property Experts (CDPE), Short Sale & Foreclosure Resources (SFR), and Council of Residential Specialists (CRS). Kris received the Chairman's Award from Edina Realty for record-breaking numbers in sales and sales volume.
In addition to creating online real estate resources Kris also takes time to give to charities including the ACBC Emergency Food Shelf, the Liz Loglin Foundation, and most recently the Newtown Youth and Family Services. "I get so much support from family, friends, clients, and the community that the least I can do is give back," Kris Lindahl said.
Call Kris and his team at (763) 607-1415 for more information. Visit the Minnesota Short Sale Calculator website to check eligibility. Download a complimentary copy of the eBook "A Homeowner's Guide To Short Sales" and check out the video series on YouTube.