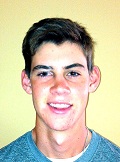 I really want to pursue golf, and Oaks gives me the best opportunity to do that.
Westlake Village, CA (PRWEB) January 09, 2013
Marc Hedrick, a Junior at Oaks Christian Online High School, is part of the first class of students to team up with Coastline Community College to take an online course in Mandarin, Chinese. Coastline, in Costa Mesa, California, offers a unique distance education program, and OCO is partnering with the college to offer courses such as Mandarin to its online, high school students. Marc has already taken four years of Spanish and two years of Mandarin. He has been to Beijing, Shanghai and the rural Dong region of China and was fascinated by Chinese culture. He is also considering applying to the Engineering program at the University of Virginia and would like to have a business background as well. He sees how strong foreign language skills may help further his future goals.
Marc is also an avid golfer and athlete that makes a difference. He was part of a high school group that founded Playing for a Difference, a service group for athletes that work with disabled students. Playing for a Difference partners with other groups such as Sports for Exceptional Athletes and Grassroots Soccer. The current goal of his group is to reach into local soccer tournaments and raise awareness of HIV and AIDS in Africa through Grassroots' program. Marc started playing golf only 3 years ago but is working with swing coach Glen Daugherty and putting coach Paul Vinzanko at the Scotty Cameron Studio in San Diego, CA. This year he will travel the country with the American Junior Golf Association and play in as many national tournaments as possible.
"I really want to pursue golf, and Oaks gives me the best opportunity to do that."
Director Vicki Conway speaks highly of Marc and says, "He's just the kind of student that thrives in an online, college-preparatory program like Oaks Christian Online High school. He plays hard and works hard. By taking courses such as AP Calculus BC, furthering his foreign language goals with dual-credit courses, giving back to his community and pursuing his dream of playing golf, Marc is well on his way to furthering his college and career goals."
The main campus of Oaks Christian School in Westlake Village, CA opened in the fall of 2000 and Oaks Christian Online School (OCO) opened for full-time, online students in the fall of 2011. The online school provides a rigorous and challenging college preparatory education for high school students all around the world in a Christian environment. Oaks Christian Online School continues to enroll part-time and full-time students throughout the school year and regularly hosts information sessions on its main campus – 31749 La Tienda Drive, Westlake Village, CA 91362, as well as virtual information sessions for prospective student families. Interested students can visit the website http://online.oakschristian.org to R.S.V.P.
For additional information about Oaks Christian Online School, its courses, curriculum, admissions or application process, please visit http://online.oakschristian.org, call 855.462.6257, or contact a school representative at online(at)oakschristian(dot)org.