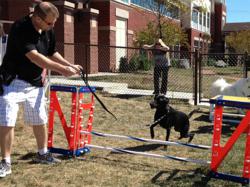 "Our Puppy Preschool sessions tend to be very popular just after the holiday season," says Ms. Ellen Haynes, General Manager for OTPR Dulles
(PRWEB) January 02, 2013
Olde Towne Pet Resort's (OTPR) Springfield and Dulles locations have each launched their respective 2013 dog training calendars and aim to start the year with Puppy Preschool and Family Dog/Beginner Obedience I classes. Worth noting, OTPR has expanded all dog training courses to various weeknights in addition to the usual Saturday sessions.
Specifically, the dog training class schedules for each OTPR resort are listed below:
Click here to view Olde Towne Pet Resort Springfield dog training class schedule.
Click here to view Olde Towne Pet Resort Dulles dog training class schedule.
"Our Puppy Preschool sessions tend to be very popular just after the holiday season," says Ms. Ellen Haynes, General Manager for OTPR Dulles. Haynes's General Manager counterpart at OTPR Springfield, Ms. Dixie Eng, agrees. "A large number of families are wanting to begin training their holiday puppies with classic basics such as 'stay' and 'sit' for starters," adds Eng. "Pet parents attending our Puppy Preschool classes will learn to be consistent with their pups and be shown numerous, helpful approaches to managing their puppy's behavior with ease and success."
The dog training classes at OTPR Dulles will be led by seasoned dog training expert Kim Roman and her apprentice, Kenneth Pilcher.
Kim Roman has been working with canines and training dogs for over twenty years. Her vast and extensive experience has been over two decades by participating in a variety of roles such as Vice President of the Northern Virginia Germans Shepherd Dog Club, as a member of the Wilkes-Barre Dog Training Club and as a Canine Good Citizen Evaluator (C.G.C.) instructor, for starters. She's active with training dogs for both the military and law enforcement and has even achieved titles in both the breed and obedience rings with own her dogs who have completed their Breed Championships with AKC, UKC and Schutzhund titles.
Kenneth Pilcher is an OTPR Pet Care Supervisor who, for the past year, has been working directly with Kim Roman as a dog trainer apprentice. Under Kim's seasoned tutelage, Kenneth has acquired her positive, focused training methods and works closely with pet parents seeking to improve their human-pet relationships.
At OTPR Springfield, Eng welcomes professional dog trainer Karen Gritis. Gritis is a Certified Pet Dog Trainer – Knowledge Assisted, certified through the Certification Council for Professional Dog Trainers (CCPDT) and is a professional member of the Association of Pet Dog Trainers as well as an AKC Canine Good Citizen evaluator. Committed to providing the most effective, convenient solutions to clients' training needs, Karen pursues continuing education and professional development by attending seminars and workshops and keeping current in all professional literature while continuing to work towards her Canine Behavior Consultant certification.
To register for OTPR's Puppy Preschool and Family Dog/Obedience I dog training sessions, please contact 703.455.9000 for classes held at Springfield and 571.434.3300 for classes held at Dulles.
For more information about dog training at Olde Towne Pet Resort, please visit http://www.oldetownepetresort.com/recreation/training.