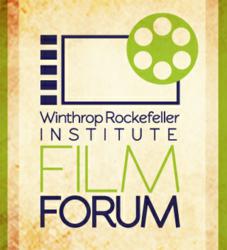 We've created a highly productive and intimate environment where we are featuring some of the top teachers in America, including Oscar, Golden Globe, Peabody, and Emmy award winners. - actor Robert Walden, Film Forum Artistic Director
(PRWEB) January 04, 2013
The Winthrop Rockefeller Institute will host its second annual Film Forum designed to explore the arts of acting, screenwriting, producing, and directing March 21st – 24th, 2013, at the Winthrop Rockefeller Institute atop Petit Jean Mountain in Arkansas (about one hour outside Little Rock). Space is limited for the Film Forum so film professionals, professors, students, and enthusiasts should register early to secure desired workshop, panel, and presentation slots. Those who register by January 31st will receive a 10% discount on full packages and a 5% discount on college student and faculty packages.
"What's unique about the WRI Film Forum is that it provides a rare opportunity for film professionals and students to participate in workshops led by some of the finest industry authorities. We've created a highly productive and intimate environment where we are featuring some of the top teachers in America, including Oscar, Golden Globe, Peabody, and Emmy award winners," said actor Robert Walden, Film Forum artistic director. "We're thrilled to offer this enrichment experience to film professionals and enthusiasts not only from Arkansas, but from across the country." The WRI Film Forum is a place to connect with other like-minded professionals while being given the space to focus on honing one's craft.
Unlike traditional film conferences or university programs, the WRI Film Forum curriculum emphasizes small classes, intensive multi-disciplinary learning, and one-on-one interactions with award-winning industry insiders. Faculty members include actors Robert Walden (All the President's Men) and Judge Reinhold (Beverly Hills Cop); directors Howard Deutch (Pretty in Pink, Some Kind of Wonderful) and Joan Darling (Mary Tyler Moore Show); acting coach Sandra Seacat (Enlightened); screenwriters Tom Schulman (Dead Poets Society) and Bill Svanoe (Six Million Dollar Man); and documentarians Craig Renaud (On the Front Lines of Film Journalism) and Paul Stekler (Eyes on the Prize), among many others.
Those interested in participating in some or all of the Film Forum have several pricing options: a full package with lodging for $750 or without lodging for $550; a university student and faculty package (current student identification is required) with lodging for $450 or without lodging for $250; and day pass for Friday or Saturday for $125. There are several a la carte tickets for individual panel discussions, dinner, and a special performance by actor Laurence Luckinbill of excerpts from his award-winning one-man portrayals of Lyndon Johnson, Theodore Roosevelt, Clarence Darrow, and Hemingway. Space is limited so advance online registration is required at http://www.livethelegacy.org/educational-programs/film-forum. For a full agenda and faculty biographies, visit the website or contact Katherine Whitworth at 501-727-6265 or kwhitworth(at)uawri(dot)org.
ABOUT WINTHROP ROCKEFELLER INSTITUTE
The Winthrop Rockefeller Institute is dedicated to engaging the world's best minds for the betterment of humanity. It stimulates positive change in the world by serving as a center for thought leadership on issues of state, national and global significance and offering artistic experiences to nurture the human spirit.