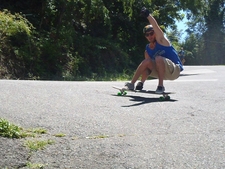 "Progression is what we are all about, and our latest creation, the Thrill Ride, will help prove exactly that."
(PRWEB) January 09, 2013
There has been a nonstop process going at Faceplant Boardriders of building and testing new longboard shapes that are going to help push the progression of longboarding. "Progression is what we are all about, and our latest creation, the Thrill Ride, will help prove exactly that", says FB Owner/Rider Ricky Wheeler. "We wanted to design a downhill freeride board that was just as much fun to ride in the flats as it is on hills, and the Thrill Ride hit the mark."
The Thrill Ride is a symmetrical twin shape deck that knows no limits. It is an all around freeride/freestyle shape and is a longboard that can be ridden anywhere. The kicks are plenty big enough to ride it like a directional tailed board, and the standing platform is 24"X9.9" which the perfect size for a rider to lock their feet in between the trucks. A rider will get the best of both worlds with this deck. The Thrill Ride has wheel sandouts to help reduce the risk of wheelbite. The deck is made of 12 plies of baltic birch and is sandwiched with E-Glass Fiberglass with super strong marine grade epoxy resin making the Thrill Ride a solid deck ready to take abuse everyday.
The natural design of this deck with its flared kicks creates pockets at each end of the standing platform. This natural feature along with the W concave keeps the riders feet locked in at all times. FB Rider Austin Bouthillet says, "I love everything about the Thrill Ride, the wide platform, the W Concave keeping your feet locked in your high speed slides. It has a perfect wheelbase making it easy to kick out slides, and it is also very stable and comfortable in fast downhill. The big tails make the board an all around fun board taking it from downhill and freeriding to some sick flat ground."
Everyone who has stepped on this longboard has absolutely fallen in love with it. FB Rider Kardon Allard said, "There is a lot to say about the Thrill Ride from Faceplant Boardriders. The way the W concave hugs your foot giving you the perfect placement to throw out whatever slides heelside or toeside. Also the stiffness and durability of the board gives you all the comfort in the world when hitting high speeds. Then of course the kicktails are perfect for any flat ground tricks and manuals. It is a must have from Faceplant Boardriders."
The Thrill Ride deck starts at $129. FB Owner/Rider Rob Wheeler said, "We don't believe in boundaries, so why limit a board to just one graphic. At Faceplant Boardriders, custom art is always an option along with the many unique art pieces we already produce."
Board Specs:
Length~41"
Width~9.9"
Standing Platform Length~24"
Wheelbase~27.75" / 28.75"
Flex Rating (1=stiff – 10=flexible): 1
Check out the Thrill Ride and the Thrill Ride Video at http://faceplantboardriders.com/products/category/1548.