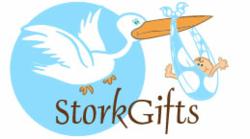 Saint Louis, MO (PRWEB) January 17, 2013
When Melissa Chelist's kids were born, she particularly loved getting personalized gifts. In December 2001, while Melissa and her husband were receiving gifts for their third baby, a family friend called to order a personalized puzzle stool from a woodcrafter. The woodcrafter informed her he was selling his business. After discovering the manufacturing facility was located just outside of St. Louis, Melissa's husband purchased the facility, initially deciding to keep his job in corporate America while hiring a manager to run the facility. Realizing there were sales opportunities on the web, Melissa's husband developed a successful e-commerce website for the company. After a year, however, the decision was made to sell the wood crafting company, as it was difficult for the business to operate when the Chelists weren't on-site. Thinking how much their own children loved all the personalized baby gifts they had received throughout the years, and appreciating how special and long-lasting these gifts were for families, the Chelists hated to give up on the world of personalized baby gifts. Seeing how successful the website had become, it was decided to develop another website selling a variety of types of personalized baby gifts; thus, StorkGifts was born.
In January 2003, Internet shopping was becoming widespread. The daily operations were outsourced to a call center until 2005. During this time, what started with just name puzzle stools, name puzzles, and personalized coat racks, grew to include personalized piggy banks and a variety of hand painted personalized stools, personalized jewelry boxes, personalized books, and a handful of other personalized gifts for babies and children.
Melissa wanted to be involved in the family-owned business. She knew it was not growing at a substantial rate and felt a major reason was because the call center employees lacked a vested interest in StorkGifts. Logistically, once her youngest child was at pre-school a couple of mornings a week, she had the time to take over the daily operations. Melissa and her husband decided to abandon the call center but more importantly, Melissa would run the company.
"I was excited; yet terrified to take over StorkGifts. I'm not going to cherry color it...it was difficult! ", states Chelist. She had a Master's degree in education and had worked as a Special Education teacher before quitting to stay at home with her children. Before StorkGifts, her business background consisted of one high school accounting class. It was true on-site job training. According to Melissa, it helped somewhat taking over an existing business, as she could see how things were done and then tweak them as she saw fit to make improvements. What would take a businessman a short time took her a long time as there was a definite learning curve. Not only was there no business background; there was also no technical knowledge. "When I first took over StorkGifts, I didn't even use email personally nor had I ever shopped online. I barely knew how to turn on my computer! This was 10 years ago! I had no experience with customer relations and suddenly, I was THE customer service department. I was determined to figure it all out." said Chelist. She Googled terms and 'how to's'. She took continuing education classes at a local University on sales and marketing topics. Chelist was lucky to have great mentors. Her husband showed her how to do things and was a great resource. StorkGifts' accountant taught her how to do QuickBooks. She utilized her friends' business expertise.
Now, in January 2013 Chelist is a skilled entrepreneur. She understands business terms and has had a great deal of customer service experience. StorkGifts.com has grown significantly; revenue has consistently increased, there is a large percentage of long time customers and they now offer nearly 100 different personalized baby and kids gifts.
"In retrospect", Chelist says, " I do think some of the success of StorkGifts is BECAUSE I did not start out as a businesswoman, but as a mom. My view point was always from the consumer side, because I never had the business side before."
Last year, Chelist and her husband divorced. As a single mom with three daughters, Melissa reiterates: "nobody knows where their path through life may take them." She hopes to be an inspiration to her daughters, and to other young women, as a female business owner.
In celebration of StorkGifts 10th birthday, customers who spend $45 or more at StorkGifts.com throughout the month of January will receive a party favor of $10 to use on their next purchase by 5/31/13. View StorkGifts online at http://www.storkgifts.com.