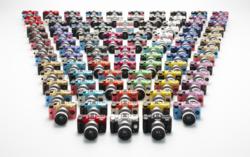 Las Vegas, NV (PRWEB) January 07, 2013
PENTAX RICOH IMAGING AMERICAS CORPORATION (PENTAX) will be showcasing their full line-up of cameras and lenses at the 2013 International Consumer Electronics Show, January 8-11, 2013 in Las Vegas Nevada. The PENTAX booth, located in the central hall of the Las Vegas Convention Center, is number 15113.
Come by the PENTAX booth for a hands-on exhibit and demonstration of the following products:

o MX-1: The MX-1, PENTAX's newly announced camera, strikes the perfect balance between classic design and high-end contemporary performance, featuring brass covers, a 4X zoom and a fast F1.8-2.5 lens.
o Optio LS465: This new point and shoot offers a super-compact body that fits into any purse or pocket with fully customizable skins to match any style.
o X-5: This bridge camera closes the distance between you and the perfect photo, featuring an optical 26X super-telephoto zoom lens and an articulated LCD.
o Optio WG-2: PENTAX's ruggedized point and shoot features a waterproof, crushproof, dustproof and coldproof body to withstand almost any environment.
o K-5 II and K-5 IIs: These updated SLRs advance the K-5 line of flagship cameras with a newly developed SAFOX XAF sensor that delivers the broadest autofocusing EV range (-3 EV to +18 EV) in its class. The K-5 IIs feature an anti-aliasing filterless design to produce superior resolution and detail.
o K-30: The K-30's weather sealed body, impressive list of features and pocket-friendly price makes this an attractive choice in any of its 18 available colors.
o 645D: This medium-format SLR delivers 40-mengapixel image quality and professional performance at an attractive price.

ILC (Interchangeable Lens Cameras)
o Q10: The Q10, the smallest and lightest ILC available combines compact-portability with limitless self-expression. Offered in 100 color combinations you're sure to find your match with the Q10.
o K-01: This Marc Newson designed ILC, features incredible image quality and an attention-grabbing body.

o AF 360 FGZ II♦: Scheduled for a 2013 launch this automatic, external, clip-on flash has a maximum guide number of 36 (at ISO 100) with bounce flash functionality adjustable both vertically and horizontally.
Additional information including product specifications is available here: http://www.pentaximaging.com/news and product images are available here: http://www.pentaximaging.com/press/pressfiles.html.
♦Notes: Model names, designs, specifications and market launch schedules of these products are all tentative and subject to change without notices. Prices of these products will be announced at a later date.
About PENTAX
PENTAX is a leader in the production of a variety of adventure ready digital cameras including weather-resistant digital SLRs and stylish, compact, waterproof cameras, as well as lenses, flash units, binoculars, scopes, and eyepieces. For more than 90 years, PENTAX has developed durable, reliable products that meet the needs of adventurous consumers and businesses. With new headquarters in Denver, Colorado, PENTAX RICOH IMAGING AMERICAS CORPORATION is a subsidiary of PENTAX RICOH IMAGING COMPANY, LTD. effective October 1, 2011. Additional details may be found here: http://www.pentaximaging.com/news
# # #