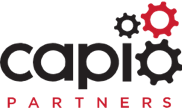 Atlanta, GA (PRWEB) January 03, 2013
Five years ago, several partners had an idea to build the best Healthcare debt buying company in America. Five years later - Capio Partners stands at the top of its class in the healthcare debt buying industry. What sets Capio apart from the numerous companies that have tried previously to dominate this market? "Capio's management and staff are the absolute best in the entire country," says Jim Richards.
With this in mind, and due to Capio's significant upcoming expansion, Capio is pleased to announce several promotions and a strategic new hire among the Leadership team. Effective January 1, 2013, Jim Richards has assumed the role of Chairman of Capio's Board. In Mr. Richards' new role, he will provide strategic leadership on all growth initiatives.
Capio is also pleased to announce the promotion of Mark Detrick to CEO of Capio Partners from his current role of CFO. Detrick and Richards have worked closely together for 17 years, through three different healthcare receivable companies. Mr. Detrick is looking forward to guide Capio through the next era of growth.
Filing the CFO role, Capio is also pleased to announce the promotion of Chris Veigel. Mr. Veigel has served well as the Senior Vice President of Accounting these last five years and has worked relentlessly towards building Capio into a financially solid company.
Capio is also pleased to announce the addition of Bob Hodges to the position of President of Capio's debt buying operations. Mr. Hodges comes to Capio with significant experience in healthcare collections, having spent the majority of his 24-year career operating, at all levels, the largest healthcare revenue cycle services company in the country.
About Capio Partners, LLC:
Capio Partners, LLC is the largest healthcare debt buyer in the USA, providing an additional revenue stream to hospitals, healthcare systems, ambulance companies and physician's groups. As the pioneers of Complaintless Collections™, Capio coordinates the hospital's patient-centered culture with its fiscal need for a profitable and predictable cash flow. Capio delivers results while keeping hospitals compliant with CMS Regulations. Capio Partners is headquartered in Duluth, Georgia with operations in Sherman, Texas.