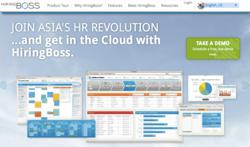 We're thrilled to be kicking-off 2013 with a smarter and more intuitive version of HiringBoss
Singapore (PRWEB) January 14, 2013
HiringBoss (http://www.hiringboss.com), the Asia-based providers of corporate recruiting technology, today announced a significant upgrade of their popular applicant tracking solution. This enhanced version of the powerful HiringBoss eRecruiting platform includes several innovative new features, aimed at solving major pain points in the hiring process and improving recruiting ROI for businesses of all sizes, across all industries. This marks the third major HiringBoss system release and the first of several major upgrades scheduled for 2013.
HiringBoss Director of Marketing, Eloise Sutton-Kirkby, commented, "We're thrilled to be kicking-off 2013 with a smarter and more intuitive version of HiringBoss. Standout features include our recruiting events management solution, a new internal mobility function and improved configurability across the board. We've also been working hard to perfect localization for our users in Japan and Vietnam. Early feedback on this latest version of HiringBoss is overwhelmingly positive and we look set to boost our industry-leading user adoptability rates yet further. This underlines our commitment to being Asia's #1 HR and recruiting technology provider throughout 2013 and beyond".
Highlights of the enhanced HiringBoss include:

Event management: Track the success of recruiting events and roadshows. Run automated and custom reports to gain an accurate ROI of all activity generated from hiring events.
Next-Level Configurability: users can now configure job types, business unit and user groups to match their internal corporate language.
Internal Mobility: manage an efficient internal recruiting program within HiringBoss to boost employee engagement, eliminate external vendor fees and reduce onboarding time. Create vacancies for internal applicants only, setting time limits before automatically broadcasting them to syndicated job boards and external vendors.
Language-Sensitive Settings: define the preferred language of all users and the correct email templates will automatically be dispatched. Communication is fast, efficient and always in the right language for all users.
Sutton-Kirkby added, "Each of these new additions empowers our customers to execute better on recruiting every day. These are tools which go further than simply automating the recruiting process. They promote collaboration and offer a fundamentally fresh and modern approach to the hiring process. We're staying true to our commitment to shrink all costs associated with hiring, and to make recruiting a more simple and enjoyable process for everyone involved -from hiring managers, through to interviewers and, of course, candidates".
HiringBoss is a native SaaS HR solution, with all customers benefitting from regular system upgrades. Sutton-Kirkby added, "HiringBoss is a constantly evolving system. We listen carefully to customer feedback and are agile in adopting new technologies. This helps us deliver regular system enhancements at a consistently low price point, giving HiringBoss the edge over larger, legacy solutions that simply cannot compete. 2013 is going to be bigger and better than ever. We're all strapping in for a series of new enhancements and, in particular, the release of our new talent management solution in March, HrBoss."
HiringBoss release their hotly anticipated talent gateway solution, HrBoss, in March. This is followed by the launch of StaffingBoss, their new SaaS solution for staffing and recruiting companies in Q2 of 2013. For enquiries contact: sales(at)hiringboss(dot)com
About HiringBoss
HiringBoss is applicant-tracking software designed for global businesses in Asia. Launched in 2011, HiringBoss is one of the fastest growing tech start-ups in Asia and a significant new contender in the global arena of HR technology.
HiringBoss combines innovative new features, multi-language compatibility, intuitive design and a low entry-level price point. Suitable for businesses of all sizes, we have clients across a range of industries spanning Government, Engineering, Manufacturing and Pharmaceuticals. These include Mitsubishi Fuso, the Singapore Tourism Board, Yellow Pages and Canon. With offices currently operating in Singapore, Japan, Vietnam and Indonesia, and a further 7 Asian countries in the pipeline for Q1 and 2 of 2013. We are currently available in 9 Asian languages.
We are currently actively sourcing talented people in Indonesia, Japan, Thailand and Malaysia to become part of the HiringBoss story.
Learn more @ http://www.hiringboss.com
email: sales(at)hiringboss(dot)com