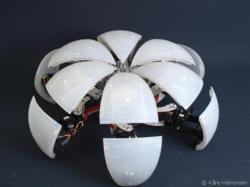 Boynton Beach, FL (PRWEB) January 03, 2013
The Boca Bearing Company is pleased to announce the final winners of the 2012 Innovation Contest. To celebrate 25 years in business Boca Bearings challenged their community of engineers, robot builders, mechanics and makers to show us their innovative mechanical project videos. The only rule was their project had to utilize ball bearings, roller bearings, linear bearings or any form of full ceramic or ceramic hybrid bearings in some capacity.
The grand prize winner of $10,000 in cash is Morphex III from Norway by Kare Halvorsen. Kare has built quite an impressive, physically adaptable, hexapod robot platform. Morphex III is able to walk with legs but it can also change into a sphere and roll like a ball. This robot operates with 36 ball bearings and the 12 bearings in the body play a key role in keeping the robot in one piece. Kare said about his motivation in building Morphex III "[R]obotics is fun and very challenging. I know that MorpHex, and my other hobby robotics projects, will inspire many people to study robotics or start making their own robots." You can view his submission and other winning projects here http://www.bocabearings.com/innovation-contest/winner-videos.aspx
The 2nd and 3rd place winners of the Replicator 3D Desktop Printer are Charon, presented by Peter Hudson and Gamera II, submitted by Ben Berry. Charon, is a 32' tall, 30' wide and 20' deep, life sized 3D stroboscopi zoetrope that was unveiled at the Burning Man Festival in 2011. Charon weighs more than seven tons and is truly a unique project that seeks to blend technology and art. Peter used 56 bearings of varying sizes and types for this structure.
Ben Berry submitted the Gamera, a project aiming to design, build and fly the first human powered helicopter. The helicopter was designed to meet the requirements of the 32 year old American Helicopter Society, Sikorsky Prize. The Gamera helicopter uses ceramic bicycle bearings for the hand and foot cranks as well as steel needle roller bearings and steel needle thrust bearings for each of the four rotor shafts. There are also a variety of smaller radial bearings being used in the pulleys for transition.
The Boca Bearing Company wants to congratulate all the winners and thank everyone for participating in the contest. Due to the overwhelming response Boca Bearings will be holding another Innovation Contest in 2013. All project demonstrating commitment to innovation, science, technology, engineering, art and math are welcome to enter in the future competition.
About the Company
Boca Bearing Company, headquartered in Boynton Beach, FL, is one of the most trusted names in ceramic bearing and lubrication technology. The reduction of rolling resistance and conservation of energy has been the company's hallmark since 1987. Boca Bearing Company is a one-stop-shop for everything from prototyping to production. Never a minimum order and wholesale accounts are available.