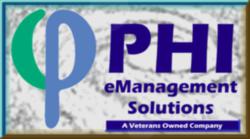 Although the end of the world did not occur as some predicted (or maybe hoped), preparing for disasters and calamities is never a bad idea.
Newmarket, NH (PRWEB) January 03, 2013
The PHI Emergency Management Solutions corporate officers recently met to discuss the end of the world, or lack thereof. PHI President Ralph Huber met with Senior VP Gill Colon Jr, and Jim Moody, VP of Training, to discuss the end-of-days and analyze the failure of the world to end on December 21, 2012 as predicted by the Mayans, and what that means to most of us.
Huber started by saying that although the end of the world did not occur as some predicted (or maybe hoped), that preparing for disasters and calamities is never a bad idea. "We joke about end-of-days scenarios, the coming of the zombie apocalypse, and the apparent wackiness of doomsday preppers, but the reality is that we all have a responsibility to take care of and prepare ourselves for certain emergencies. I'm taking about hurricanes, tornadoes, floods, winter storms, and things of that nature, which occur with more and more frequency. Everyone needs an emergency or survival kit in their homes and vehicles, preferably both."
Colon mentioned the "72 Hour Rule" as a starting point. That rule, which is really a guideline, was developed by the Department of Homeland Security to educate people as to what type of emergency preparedness items they should have in their possession at all times. The reason behind the rule, he said, is that in any widespread emergency, first responders cannot provide immediate help to everyone, instead focusing on those that are in the gravest danger. Colon said that if the general public has the necessary emergency preparedness items available to them, they are much less likely to require assistance from first responders, at least in the immediate aftermath of a disaster.
Moody agreed, saying that "self-help" during an emergency is critical to lessen the number of people that first responders must react to. "If first responders can focus their priorities on the most critical in need, that will enhance their response times, and provide more assets to those that really need it", he said. Look at the havoc and devastation caused by Hurricane/Superstorm Sandy, Moody said, which affected thousands of businesses and homeowners. "Many, if not most, of those affected did not have any type of emergency or survival kit, nor did they have an evacuation plan ready."
Moody also said that everything that the average person or family needs is available through the PHI website at http://www.phi-emsolutions.com/. PHI sells survival kits for home or auto, are very reasonably priced, and come in all shapes and sizes. "We also have our exclusive Zombie Apocalypse survival kit, which is our best seller, and is not a novelty item by any means. The zombie kits are stocked with everything the Department of Homeland Security recommends for a survival kit, and then some," he said. It does have some zombie-related items, which makes it a very popular kit for teenagers, college students, and anyone interested in zombies. But the bottom line, Moody said, is the kit is an actual survival kit that will help you be prepared for any emergency, even the end of the world.
PHI Management Solutions Emergency Management Division, offers many different home and institutional products for emergency planning. They also have free downloads and information links designed to inform and assist individuals, families, organizations and businesses prepare for emergencies. Our team is composed primarily of veterans with over 90 years of combined service. Each member of the team has proven themselves through combat command and has extensive experience in disaster response and planning. Team members have commanded response forces and/or participated in several disaster responses to include the 2005 crash of a civilian airliner in Afghanistan, Hurricane Katrina 2005, Southwest New Hampshire Flooding in 2005, New Hampshire Statewide flooding in 2006, Epsom, NH tornado response in 2007, the 2008 New England Ice Storm, 2009 Anthrax Response in Durham, NH, the 2010 Wind Storm, Hurricane Irene in 2011, the October 2011 New England Snow Storm and Super Storm Sandy in October 2012.