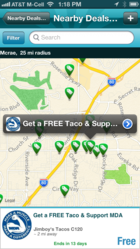 Jimboy's understands how relevant the smartphone is to our business
Sacramento, California (PRWEB) January 04, 2013
Local taco chain Jimboy's will utilize mobile marketing platform provider dealsnapt across the chain to acquire, engage and retain consumers through their smartphones and the WEB. By using dealsnapt™ and the latest mobile app technology, Jimboy's Tacos can now get real-time information on their marketing campaigns both at the corporate and the individual store level and react instantaneously to the dynamic nature of their business. As part of the roll out, both Jimboy's and dealsnapt will be donating some of the proceeds of their sales through the platform to benefit the Muscular Dystrophy Association's "Make a Muscle, Make a Difference" campaign.
In the short time that Jimboy's have been using dealsnapt at several of their corporate stores, they have seen a remarkable uptick in redemptions, and are able to respond to consumer demand at a rate that was simply not possible with legacy advertising platforms. "We are very excited about the possibilities this platform brings our customers and the potential for new customers", said Mike Freeman, the chain's Operations Manager, "Jimboy's understands how relevant the smartphone is to our business."
"dealsnapt has been doubling our user and business base every 6-8 weeks since it launched at the beginning of 2012", said Randy Custeau, a dealsnapt founder. "This partnership with Jimboy's is a testimonial to the power of the platform. The roll-out will move us quickly into new markets"
About
dealsnapt is a fast growing local Sacramento-based company that is dedicated to making businesses successful by leveraging proximity based mobile technology and social networks. Businesses are provided with a mobile and WEB platform for customer acquisition, engagement and retention. A no-cost download for Apple and Android devices, dealsnapt has almost 10,000 users and 350 businesses utilizing the platform in Northern California, Nevada, and New Jersey.
For over 50 years Jimboy's Tacos have been a Northern California / Nevada tradition. Multiple generations of food aficionados have enjoyed Jimboy's uniquely flavored menu, anchored by its legendary ground beef taco. More than just tacos, though, Jimboy's restaurants feature full meals, kid's meals, a value menu, and a full line of beef, chicken, pork, seafood, and vegetarian items – all freshly prepared daily. Many locations feature a drive thru window for convenience, but don't let that fool you. They are not fast food, just Great Fresh Food Served Fast.