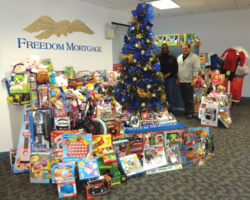 Mount Laurel, NJ (PRWEB) January 04, 2013
Partnering with the Salvation Army for a second year, Freedom Mortgage successfully surpassed its philanthropic goal this year by broadening its Holiday Angel Gift Program on a national level.
More than 400 families in communities throughout the US were able to enjoy holiday cheer this year, thanks to the generosity of Freedom Mortgage and its employees.
"We at the Salvation Army are so blessed and grateful to have Freedom Mortgage as a partner in the Holiday Angel Gift Program. There are so many gifts collected from the various Freedom Mortgage locations nationally that we can provide many, many families in need this year including those affected by Hurricane Sandy", said Field Division Representative- Virginia Evans of the Salvation Army. "We are thankful that Freedom Mortgage helped us exceed expectations and made holiday dreams come true for many families in need nationwide".
In the coming years, Freedom Mortgage hopes to use the strength and presence of the organization nationally to help support families in need wherever possible.
About Freedom Mortgage:
Freedom Mortgage Corporation is an established, approved lending institution maintaining an A+ rating with the Better Business Bureau (BBB) and is a member of the Mortgage Bankers Association (MBA).
Fully licensed and privately held, Freedom Mortgage provides a wide range of loan choices at competitive rates to new and existing customers.
Freedom Mortgage has been serving residential homeowners throughout the Nation since 1990, is an Equal Housing Lender and an Equal Opportunity Employer with its corporate headquarters located in Mount Laurel, New Jersey.
Forward-Looking Statements
Freedom Mortgage Corporation is a privately held company. This press release may be deemed to contain forward-looking statements, which are subject to the safe harbor provisions of the Private Securities Litigation Reform Act of 1995, including statements regarding the expected benefits to consumers from using Freedom Mortgage Corporation's services. Readers are cautioned that these forward-looking statements are only predictions and may differ materially from actual future events or results due to a variety of risks and uncertainties. Any forward-looking statements in this release are based on limited information currently available to Freedom Mortgage Corporation, which is subject to change, and Freedom Mortgage Corporation will not necessarily update the information.
Media Contact:
Angel Bell- VP Marketing, Communications & Public Relations
800.220.3333 X 2467
Angel.Bell(at)FreedomMortgage(dot)com