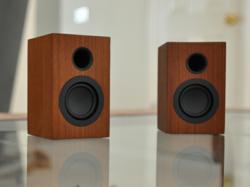 With today's vast array of Bluetooth enabled music devices and diverse music playlists, Micro-Fi Bluetooth mini-speakers deliver an enhanced listening experience
San Jose, CA (PRWEB) January 03, 2013
Altaz today announced the introduction of Micro-Fi Bluetooth mini-speakers. The all-natural wood speakers feature a distinctive modern retro design and evolutionary HDSS Sound Technology.
Designed specifically for smartphones, tablets, and laptops, Micro-Fi Bluetooth Mini-Speakers utilize HDSS Sound Technology to produce real-time crystal clear sound without distortion, and a 3-dimensional sound effect for increased listening pleasure.
Micro-Fi's compact size (2 3/8"W x 2 3/8"D x 3 ¾"H), clean design lines and natural wood body make these Bluetooth mini-speakers ideal for both work and home environments. Micro-Fi's classic hi-fi look complements any décor.
"With today's vast array of Bluetooth enabled music devices and diverse music playlists, Micro-Fi Bluetooth mini-speakers deliver an enhanced listening experience, said James Lin, President of Altaz, Inc. For the music enthusiast who cares about how a speaker looks and sounds, Micro-Fi Bluetooth speakers is a terrific choice."
AVAILABILITY
Micro-Fi Bluetooth speakers is available online at Altaz's website and Urban Outfitters http://www.urbanoutfitters.com now. For the latest information, visit http://www.altazusa.com
Micro-Fi Bluetooth Speakers (AZWS100BT) - $99.99

Modern Retro Design
Bluetooth-enabled
HDSS Sound Technology
All natural wood body
Eco-friendly packaging
About Altaz
Altaz develops consumer electronics that offer consumers a smarter, stylish alternative by combining clean contemporary design with excellent quality and sound value. Altaz products are designed for today's fast-paced, mobile lifestyle. Altaz is a privately held company founded in 2010. Headquartered in San Jose, California, Altaz can also be found on the web at http://www.altazusa.com