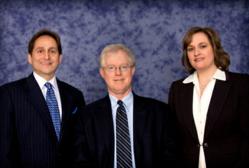 [My attorney] never gave up on me. I thank her for that. Thank you all for all your help, making this possible for me to go on with my life. Everyone was very helpful during my hard times
Washington DC (PRWEB) January 04, 2013
Follow Media Consulting, Inc. today announced they had signed up Leiser, Leiser, and Hennessey to their practice. in the category of Fairfax Criminal Lawyer.
Leiser, Leiser & Hennessy is a full-service law firm. They provide first rate legal services in all areas of practice. While some firms choose to concentrate in just one area, their firm covers a wide variety of practice areas; Leiser, Leiser & Hennessy attorneys are experienced and have become highly knowledgeable in many different types of law. As capable as they are in advising in various areas, they each focus on the areas they have more experience in, but keep open lines of communication with each other. This benefits their clients because many areas of the law intersect. Leiser, Leiser & Hennessy attorneys can serve varying legal needs while navigating the murky gray areas of the law with confidence and ease.
At Leiser, Leiser & Hennessy they have represented many people facing serious felony charges. They understand how difficult it is for someone facing these charges. When clients come to see them, they analyze the case, weigh all of the options, and come up with the safest strategy to achieve the best possible outcome. Once the plan is clear, clients can rest assured that their attorneys will work tirelessly and fearlessly to resolve the case in the most efficient manner.
Leiser, Leiser & Hennessy attorneys explain the situation, options, and strategies to clients, and keep them informed and involved every step of the way because they understand client needs. They have extensive knowledge and experience in investigating and gathering evidence, documents, facts, testimony and more. They also use cutting edge technology to gather DNA and forensic evidence. By being well prepared and informed, Leiser, Leiser & Hennessy attorneys minimize surprises in the court room. For further details on their services on criminal defense you can visit their website at http://www.leiserlaw.com/ or you may call them at 703 734 5000.
About Follow Media Consulting, Inc.
Named one of the best SEO companies by Jonas Marketing, Follow Media Consulting, Inc. is a rapidly growing worldwide firm of SEO, Social Media, and Mobile Marketing Professionals. Follow Media Consulting, Inc. headquarters is located in Richmond, VA. However, our professional team is networked across the world, with regional offices across the United States, in the United Kingdom, Canada, Australia, France, South Africa, the Philippines, and India.