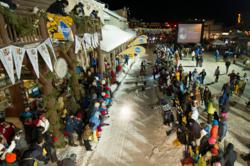 After the Jackson Hole start, sled dog teams spend eight days racing through Wyoming, Montana, Idaho and Utah.
Jackson Hole, WY (PRWEB) January 03, 2013
Dogs rule Jackson's Town Square during the International Pedigree Stage Stop Sled Dog Race (IPSSSDR) kick-off on January 25, 2013, as teams mush through the streets of Jackson, Wyo. A rollicking party for spectators accompanies the crowd-pleasing Jackson Hole start, including a pig roast, torchlight parade and fireworks finale at Snow King Mountain. The annual event, now in its 18th year and sporting a new sled dog race route that takes mushers and sled dog teams through four Rocky Mountain states, is the largest sled dog race in the lower 48 states of the U.S.
After the Jackson Hole start, teams spend the next eight days racing through Wyoming, Montana, Idaho and Utah with the final Wyoming stage finish on February 2 in Uinta County, Wyo., followed by a junior musher race – a for-charity event that gives kids from participating towns a chance to try their hands at mushing – and an evening awards banquet in Evanston, Wyo.
Twenty-three teams are currently registered for the 2013 International Pedigree Stage Stop Sled Dog Race, including the 2012 IPSSSDR first- and second-place winners, Blayne "Bud" Streeper and Aaron Peck. U.S. mushers will be in attendance representing six different states; seven Canadian teams are registered to participate; and a rookie, Lars Lindh, will travel all the way from Sweden.
Five rookie teams are currently scheduled to run, including the youngest musher, 17-year-old Jenny Gregor of Bozeman, Mont. Gregor, a second-generation musher, got her first sled dogs in 2008 from a rescue and has built her kennel with rescue dogs and their offspring. The complete roster with biography information on all the mushers is available on the IPSSSDR website.
Towns all along the IPSSSDR race route welcome mushers and canine competitors with musher meet-and-greets, Dutch oven dinners, pooch parades and ice sculpture splendors. Spectators need only bundle up for the formidably frosty fun and prepare to sip cocoa as they catch the paw-pounding action amid snowy mountain vistas. Visit http://www.wyomingstagestop.org for the complete schedule of events.
With its unique stage stop format, the IPSSSDR has become a popular mushing event attracting the world's top competitors. Pedigree® Food for Dogs is the title sponsor of the IPSSSDR. The Pedigree® brand actively supports a wide range of programs that promote responsible pet ownership and highlight the contributions dogs make to society.
Company Information: The International Pedigree Stage Stop Sled Dog Race was founded in 1996 by Frank Teasley to make sled dog racing more accessible to the public. For more information, visit the race website at http://www.wyomingstagestop.org or contact the race at 307.734.1163.
Media Contact: Darla Worden, WordenGroup Strategic Public Relations, darla(at)wordenpr(dot)com, 307.734.5335.