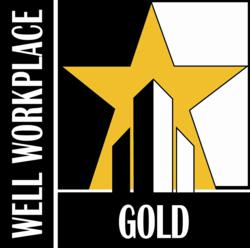 "In 2011, 92% of our employees completed their annual health risk assessment. As a health care company, it's important for us to live what we recommend to our own members."
Dayton, OH (PRWEB) January 03, 2013
CareSource, a non-profit managed health care company, recently received the Gold Well Workplace award by the Wellness Council of America (WELCOA). This is a first for CareSource; in 2011 they received a WELCOA Silver award.
"I am truly proud that we have progressed to the Gold level in just one year. This shows not only the great work our wellness team has done in promoting wellness activities, but also the commitment we have to our employees," explained Pamela Morris, President and CEO at CareSource. "In 2011, 92% of our employees completed their annual health risk assessment. As a health care company, it's important for us to live what we recommend to our own members."
CareSource's employee wellness program started in 2004, and today includes:

Fulltime employee wellness program manager
On-site fitness center and exercise classes at company headquarters
On-site flu immunizations, cholesterol and blood pressure screenings
Incentive challenge programs
Online health and wellness portal including health risk appraisals, classes
Monthly brown bag lunches with local wellness experts
Mobile mammograms
Organizations compete to be recognized as one of America's Healthiest Companies driven by a pre-defined set of worksite wellness criteria. Four designations of the Well Workplace Award are possible to achieve — Bronze, Silver, Gold and Platinum. Gold recognizes organizations that have developed comprehensive wellness programs producing results.
Application criteria are based upon progressive development and implementation of a wellness initiative that meet specific benchmarks. The benchmarks include having:
Executive support
Cohesive wellness teams
Comprehensive operating plan
Supportive environments
Outcomes
Effective interventions
About CareSource
CareSource is a non-profit health plan founded on the principles of quality and service, delivered with compassion and a thorough understanding of the Medicaid consumer. By staying true to its mission of making a difference in the lives of underserved people by improving their health care, CareSource has become one of the largest and fastest growing Medicaid managed care plans in the nation and currently serves more than 900,000 Medicaid and Medicare Advantage consumers in Ohio and Kentucky.
With a strong focus on preventive care, CareSource utilizes a continuum of care model to members at all stages of health and illness. In addition to all required services, CareSource offers extra benefits such as a 24-hour nurse advice line, transportation to doctor's appointments, and a variety of care management programs. For more information about CareSource, visit http://www.caresource.com.
About the Wellness Council of America (WELCOA)
The Wellness Council of America (WELCOA) was established as a national not-for-profit organization in the mid 1980's through the efforts of a number of forward-thinking business and health leaders. Today, WELCOA has become one of the most respected resources for workplace wellness in America. With a membership in excess of 3,200 organizations, WELCOA is dedicated to improving the health and well-being of all working Americans. Located in America's heartland, WELCOA makes its national headquarters in one of America's healthiest business communities Omaha, Nebraska. For more information, visit http://www.welcoa.org.