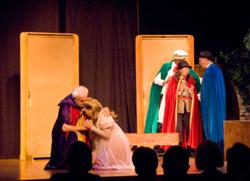 I enjoy managing a construction crew by day, and plying my opera trade by night
San Francisco, CA (PRWEB) January 03, 2013
Christopher Wells Construction, a San Francisco home remodeling company, is now offering the opportunity to win free tickets to a Giuseppe Verdi opera. Sign up today for a home repair estimate and get a chance to win free opera tickets by visiting christopherwellsconstruction.com
Through March 1, 2013, homeowners who sign up for a home repair estimate can win two tickets to a Verisoma Opera performance of a Verdi opera: Verdi's Il Trovatore, La Traviata or Rigoletto.
"At my job as a residential contractor, I meet a lot of homeowners who really love opera," said Chris Wells, professional opera singer and owner of Christopher Wells Construction. "And because it's my 'other job' I get the unique opportunity to offer complimentary tickets to other like-minded opera buffs."
"I enjoy managing a construction crew by day, and plying my opera trade by night," Wells went on. "It gives me a chance to mix my contractor life with my passion for opera and vice-versa."
Wells believes opera provides a healthy and creative balance to his life. "I can lay down the hammer and nails and explore another side of myself. Opera is a beautiful art form that combines singing, pageantry, and theatrical performance all in one." But Wells admits to being the only opera singing general contractor he knows in San Francisco bay area. "It's not every day you find a remodeling contractor who sings Puccini and Verdi arias," Wells added.
So how did a general contractor become involved in the world of opera?
"With curiosity, training, perseverance, and passion," Wells explained. "I became afflicted with a desire to sing after seeing and going to the opera, taking vocal classes and doing workshops. It got into my system and just stayed." Wells said he never thought twice about it after his first opera performance in 1999. "Once I got hooked, there was no turning back."
But Wells admits that even after several performances he still had a lot to learn. "But I worked at it and my determination paid off," he said. And lead roles in several operas soon followed: Puccini's La Boheme, Madama Butterfly, Il Tabarro, and Gianni Schicchi; and Verdi's La Traviata, Otello, Il Trovatore, Rigoletto, and Un Ballo in Maschera.
Wells is definitely an opera aficionado, but he maintains his enthusiasm for his day job. Since 1984, Christopher Wells Construction has specialized in custom, residential remodeling in the San Francisco Bay area, though few clients know that Chris sings opera. Yet his rich bass-baritone is certainly appreciated by his opera colleagues. "We have sung many times together," said Fredrick Winthrop, Verismo Opera's founder and director, "and he is always, in a single word . . . spectacular!"
"I've never had to display my construction talents on stage to win an opera role," Wells mused, "or had to belt out a Mozart aria to win a construction job, either, though there are some similarities between the two."
Opera singers have to be willing to suffer multiple rejections when auditioning for different companies, Wells explained. "In construction, it can be similar in terms of winning a bid for a job. And you've got to be very focused and be able to multi-task for both pursuits."
Many of Wells' opera colleagues know what it's like to work a day job and live a double life by moonlighting as opera singers by night. "It can be hard, but we love it—and that's why we do it."
To learn more about Christopher Wells Construction and to get a chance to win a free night at the opera visit http://www.christopherwellsconstruction.com.
Contact: Christopher Wells Construction, Inc.
chris(at)christopherwellsconstruction(dot)com
Ph: 415.469.7116
###