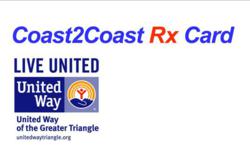 By offering our constituents the Coast2Coast Rx card, we give them a tool that can have an immediate impact on their health and finances... - Jennifer Bosk, UWGT
Ponte Vedra Beach, FL (PRWEB) January 11, 2013
The providers of the Coast2Coast Rx card, a discount prescription program that offers significantly reduced prices on prescription drugs and other healthcare services, and United Way of the Greater Triangle (UWGT) today announced their partnership in which UWGT will distribute the free discount cards. By providing this important resource to help consumers improve their health and financial stability, the Coast2Coast Rx card will help United Way improve lives by identifying human needs in the communities that it serves.
Coast2Coast Rx differs from other free discount prescription cards by giving back to the communities it serves in more ways than one: first, by providing access to affordable medicines to help improve both consumers' health outcomes and their personal finances; and second, by creating revenue for its partnering organization. In its collaboration with Coast2Coast Rx, UWGT will receive $1.25 for each prescription filled using the card, making the Coast2Coast Rx card a fundraising tool that can help support UWGT partner agencies' programs and services.
"United Way of the Greater Triangle is focused on making tangible differences in our community and envisions long-term improvements," stated Jennifer Bosk, vice president of marketing and communications for the United Way of the Greater Triangle. "By offering our constituents the Coast2Coast Rx card, we give them a tool that can have an immediate impact on their health and finances, while raising funds that can contribute to furthering our larger goals."
With the endorsement of public officials in more than 280 municipalities nationwide, Coast2Coast Rx saves consumers millions of dollars on their prescriptions and other healthcare services each year. There are no restrictions on age, income status, or existing health conditions, making the benefits of the card apply to everyone: those with no insurance coverage, the underinsured and even those with high deductibles or prescriptions not covered by their health plan. In some cases Medicare patients will find the card can help reduce costs of the Part D "donut hole."
"Partnering with United Way of the Greater Triangle allows us to reach the residents of Durham, Orange, Wake and Johnston counties, and we believe the Coast2Coast Rx card can be an important resource for individuals and families in these communities," said Chief Marketing Officer Marty Dettelbach of Financial Marketing Concepts, Inc., the company that provides the discount prescription card. "We agree with UWGT that meeting basic needs, in part through access to affordable healthcare options and money-saving tools, are important ways to benefit the community in the long-term."
Consumers save an average of 60 percent, and up to 75 percent, using the card to purchase more than 60,000 brand name or generic varieties of drugs at the 59,000+ participating pharmacies, which includes major chains and many independent locations. Through its healthcare partners, the Coast2Coast Rx card also provides discounts on dental, vision, hearing and lab services, as well as diabetes supplies and even veterinary care and many pet prescriptions. With no paper work to fill out, no membership requirements and no expiration date, the card allows immediate savings on medications and certain healthcare services. Residents can pick up a card from most of United Way's 76 partner agencies in the four-county region, the UWGT office at 2400 Perimeter Park Drive, Suite 150, Morrisville, N.C. or download and print one from http://www.unitedwaytriangle.org/prescriptions.
About Coast2Coast Rx Card
The mission of the Coast2Coast Rx Card is to provide a universe of prescription savings options while improving health outcomes. The Coast2Coast Rx Card has provided millions of dollars in savings on prescription drugs for its program members. A product of Financial Marketing Concepts, Inc., a Florida corporation ("FMC"), that is a leader in the supplemental benefits field, the Coast2Coast Rx Card was developed as a result of the belief that the cost of products and services has risen so drastically that a need has arisen among many families to supplement these costs with benefit programs and prescription cards. For more information please visit http://www.coast2coastrx.com/.
About United Way of the Greater Triangle
United Way of the Greater Triangle improves lives by mobilizing the caring power of communities. United Way of the Greater Triangle serves Durham, Johnston, Orange and Wake counties by connecting callers to health and human service programs through United Way 2-1-1. To learn more about United Way of the Greater Triangle visit our website: http://www.unitedwaytriangle.org.