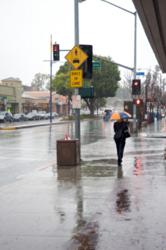 It takes time, but flood damage is repaired, lives are re-built, and soon things are back to normal
Atlanta, GA (PRWEB) January 03, 2013
Hurricane Sandy delivered a mighty punch, but did not knockout the resilient residents in the hard hit areas of the storm. Houses were toppled, streets were flooded and electricity was disrupted.
Some people lost their lives because of Hurricane Sandy and many others were injured and had to receive medical attention. People were left emotionally scarred and with the enormous task of rebuilding their lives. It may be possible to measure the billions of dollars in property damage and the number of tons of debris that requires cleanup, but it may be impossible to measure the emotional and physical costs needed for families, businesses, and neighborhoods to put the pieces back together and moving forward.
After Hurricane Katrina and Sandy, we learned some valuable lessons about the forces of nature. It's not possible to stop natural disasters from occurring, but one can mitigate the damages by better planning and preparation.
After The Flood - Lessons Learned From Hurricane Sandy
1. Heed the Official Evacuation Warnings
When the governor or other public officials tell you it is not safe to stay, heed those warnings. Unfortunately, many people did not pack up and get away from the storm's ominous path. The result was that some people lost their lives and others were injured. People were stranded without electricity, running water or food. Help could not get to some people because the roads were inaccessible.
2. Have A Home Survival Kit – Food, Water, Fuel
When a major storm hits, normal services can be out for several days or longer. There may be gas shortages and utility crews might not be able to restore your electricity and water for two weeks. Homeowners should consider buying a generator and maybe a chainsaw to cut up fallen trees. It is important to keep plenty of bottled water and non-perishable on hand. If you take prescription medications, make sure you have an adequate supply.
3. Have your Own Evacuation Plan
You should not rely on someone to come and evacuate you. Instead, plan your escape well in advance of the impending storm. You may be able to stay with a friend or family member in a safer location. Otherwise, you can check into a hotel or, as a last resort, go to a nearby shelter.
4. Adequate Insurance
Many homeowners found out that they did not have the proper insurance coverage. You should sit down with your insurance agent and evaluate your policy. You need a special flood insurance policy to cover water damage from rising water that enters your house.
5. Putting The Pieces Back Together – Restoring the Flood Damage
Bob Condit, the owner of Floodmasters in Atlanta Georgia says, "I have seen firsthand both the financial and emotional devastation that a flood disaster can cause. To the homeowner it can seem so hopeless to try and clean up the flood damage. We take homeowners by the hand and help them realize that there is hope and there is help. It takes time, but flood damage is repaired, lives are re-built, and soon things are back to normal."
We may not be able to prevent natural disasters from occurring, but we can make sure we learn from the past, and be better prepared for the future.