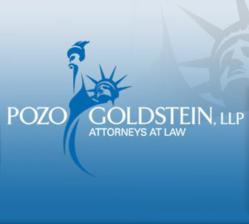 New York, NY (PRWEB) January 02, 2013
Secretary of Homeland Security Janet Napolitano announced a final rule today that will allow immediate family members of U.S. citizens to apply for unlawful presence waivers without actually leaving the country. According to Attorney Steven A. Goldstein, "The Stateside Waiver process will allow individuals who require a waiver for unlawful presence to apply for this waiver while still present in the United States. If the waiver is approved, the individual can then return to their country and consular process back into the United States with legal status."
The final rule will go into effect on March 4th, 2013. At this time, the New York immigration lawyers at Pozo Goldstein, LLP will begin helping visa applicants obtain unlawful presence waivers. According to the Secretary of Homeland Security Janet Napolitano, the final rule will facilitate legal immigration to the United States. She said, "This final rule facilitates the legal immigration process and reduces the amount of time that U.S. citizens are separated from their immediate relatives who are in the process of obtaining an immigrant visa."
The rule was introduced in April, 2012. According to the Director of U.S. Citizenship, Alejandro Mayorkas, "The law is designed to avoid extreme hardship to U.S. citizens, which is precisely what this rule achieves. The change will have a significant impact on American families by greatly reducing the time family members are separated from those they rely upon." Additionally, the final rule eliminates the fear that a family member might leave the U.S. and not be able to re-enter the country because his/her waiver application was denied.
Currently, individuals who are immediately related to a U.S. citizen must leave the United States before applying for an unlawful presence waiver. Applicants who wish to obtain lawful permanent residence in the U.S. must appear for an interview abroad before their waiver application will be considered. Even with the final rule, applicants must be able to demonstrate that they are immediately related to a United States citizen and that they will experience significant hardship if the waiver is denied.
According to Attorney Goldstein, "This regulation is another indication of President Obama's commitment to addressing family unity as it pertains to the immigration process and to exercise his executive authority to begin to fix the immigration system." Even still, the President's dedication to immigration reform alone may not be enough to help visa applicants. "Comprehensive immigration reform is the next step," Attorney Goldstein continued, "but the President will need Congress as a partner in the process." The New York immigration attorneys at Pozo Goldstein, LLP are dedicated to helping individuals in New York City and the surrounding areas obtain immigrant visas to the United States.
Additionally, they are experienced in a wide variety of other immigration-related legal issues – such as appeals, citizenship, asylum, green cards and deportation defense. The legal professionals at Pozo Goldstein, LLP are actively interested in the wellbeing of their clients and hope that the final rule will provide families with the opportunity to stay together during the waiver application process. "This new regulation regarding waivers for unlawful presence will help a countless number of individuals who would otherwise be eligible to legalize their status in the United States through consular processing," said Attorney Goldstein. To learn more about the Pozo Goldstein, LLP, visit http://www.pozogoldsteinny.com.