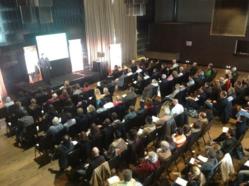 My strategies primarily focus in solving the problem of a buyer and a seller by creatively and innovatively modifying the terms of the sale.
(PRWEB) January 03, 2013
Rick Otton is kick starting 2013 with live property investing training events all over Australia and has released the schedule for the series of these one-day events. The success of this events' series in 2012 – as well as the huge number of people who wanted to attend but, for some reason, has failed to do so – has prompted Otton and his team to conduct another series this year.
Otton is a renowned property innovator, known in major countries including the US, UK, New Zealand and Australia for his creative and innovative out-of-the-box strategies in buying and selling houses. He has been teaching his creative strategies to other people since 2001 and has since then helped thousands of individuals turn their lives around.
The previous series of one day live training events has sold rather quickly in 2012. Because seating was limited, lots of individuals were not able to participate in the event and learn more about Otton's creative property investment strategies.
"We were distraught that there were lots of people who didn't get to attend the training events last year. This is why my team and I decided to continue the series this year and go all out in ensuring everyone will learn a lot about property investment, feel comfortable, and have a great time," Rick Otton said.
Learning in One Day
Otton understands how difficult it is to get started on property investing, especially for those who have zero experience in dealing houses. This is among the many reasons why he has decided to teach people his creative and innovative real estate strategies via a series of one day events.
Otton's property investment strategies are basically designed to eliminate banks and money in the investment process, allowing anyone – including those with insufficient funds for deposit as well as those who, for some reason, are unable to qualify for a loan. Through these strategies anyone could invest on property even without sufficient funds as well as the required skillset and levels of experience.
"My strategies primarily focus in solving the problem of a buyer and a seller by creatively and innovatively modifying the terms of the sale. These strategies are easy to learn and implement provided you have an open mind and the willingness to forget the standard and accept changes," Rick Otton said.
One of the many students who have attended Otton's training events is J. Soulos. "Rick has changed my life! I have been working the whole of my life with 10-15 hours a day to create a property portfolio. I did not see my children at all. When I retired I had nothing to do and came across your program. How while I'm doing the program, I find that I'm spending more time with my boys – I'm enjoying having that drink with them and going out with them. I'm a different person altogether! Rick has actually changed my life," Soulos said.
The upcoming dates for Otton's one day live training events are as follows:

February 10, 2013 in Sydney
February 17, 2013 in Brisbane
February 23, 2013 in Melbourne
February 24, 2013 in Perth
Reserve your seat here: http://www.howtobuyahouseforadollar.com/register/
About Rick Otton
Rick Otton has spent decades making money by snapping up inexpensive real estate and putting it to work building wealth. Now, he's teaching other Aussies how to do the same.
Otton is the founder and CEO of We Buy Houses, which operates in the U.S., U.K., Australia and New Zealand putting his strategies to work every day.
Otton got his start in alternative real estate investment in 1991 and within a year acquired 76 properties. In years after, Otton made a fortune using his low-risk, high-reward strategies to inexpensively acquire real estate.
Now, Otton wants to share the wealth by sharing the wisdom, teaching Aussies how to buy and sell real estate without cutting banks and other middlemen in on the deal.
Otton has been featured in a variety of television programs and magazines, including Today Tonight, A Current Affair, Australian Property Investor and more.
You can learn more about Otton and how to invest in residential real estate without using banks at http://www.rickotton.com.