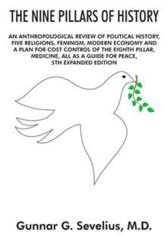 ATHERTON, Calif. (PRWEB) January 04, 2013
"After having reviewed world history," says author Gunnar G. Sevelius, M.D., "I would consider the ultimate goal for society to be to pass from one generation to the next from a platform of dignity." It is with this goal in mind that he presents readers with his new book "The Nine Pillars of History: An Anthropological Review of Political History, Five Religions, Feminism, Modern Economy and a Plan for Cost Control of the Eighth Pillar, Medicine, All as a Guide for Peace, 5th Expanded Edition" (published by AuthorHouse).
In his book, Sevelius discusses his discovery of nine common denominators that run through 200,000 years of history. This discovery yields compelling hypotheses of anthropological scope and social relevance. The nine pillars of history he identifies are 1) food, water, air, energy, sex 2) shelter 3) cleanliness 4) art 5) communication 6) community support 7) religion 8) medical care 9) and trade.
Sevelius' hypotheses have already been presented, by the author, at the 2012 American Anthropological Association's national meeting Nov. 15-18 in San Francisco.
"The Nine Pillars of History"
By Gunnar G. Sevelius, M.D.
Hardcover | 6 x 9 in | 372 pages | ISBN 9781477269541
Softcover | 6 x 9 in | 372 pages | ISBN 9781477269558
E-Book | 372 pages | ISBN 9781477269534
Available at Amazon and Barnes & Noble
About the Author
Gunnar G. Sevelius, M.D., is a retired medical director from a major defense contractor. Previously, he was a contracted medical director for NASA, and before that an associate medical professor and medical scientist at the University of Oklahoma. For more information, visit http://www.ninepillars.com.
Sevelius is the author of several other books, including "Add years to your life and life to your years, parts I and II," "You are it, first aid when minutes count" and "An untold medical story, coronary blood flow, heart attack prediction, prevention and treatment."