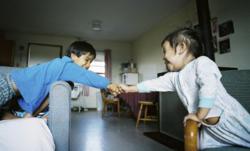 "Had I followed the orders of my boss, it would have required me to violate the law, and ethical rules that govern attorney conduct"—Asst. State Attorney Brandon Taliaferro
Aberdeen, South Dakota (PRWEB) January 03, 2013
Former court appointed child advocate Shirley Schwab and former SD state attorney Brandon Taliaferro have been charged with making an unauthorized disclosure of confidential Department of Social Services (DSS) information (Fifth Judicial Circuit of South Dakota, Brown County, CR12-427). Schwab and Taliaferro will go on trial Monday, January 7, at 9 AM, at the 5th Circuit Court, 101 SE 1st Ave., in Aberdeen, SD.. At issue is the use of confidential information in a case in which the defendants encouraged two teenage Lakota foster girls to speak up about being molested by their non-Native adoptive father Richard Mette in 2011. Mette, is now serving a 15 year prison sentence for the rape of a child under the age of ten.
Taliaferro was an assistant state attorney for Brown County. In early 2011 he came across information as part of his duties about the possible molestation of two Lakota foster sisters by their adoptive father, Richard Mette. When Taliaferro found pornographic videos about incest in the Mette home, he requested a DSS investigation. When the DSS refused, Taliaferro called the police and a subsequent investigation led to the conviction of Mr. Mette on one count of child rape (CR 10-11-13; Fifth Circuit Superior Court of South Dakota). Rape of a child can lead to sentences of 25 to 50 years, but Mr. Mette received 15 years with parole after seven and one half years.
On October 25-27, 2011, NPR asserted rampant violations of the Indian Child Welfare Act by South Dakota. According to a special report issued by the Lakota People's Law Project, a nonprofit law firm, the state appears to have responded to this by attacking its own critics from within, including Schwab and Taliaferro. Following the NPR expose, South Dakota Attorney General Martin Jackley's agents raided the defendants' offices and private homes in the dark of night and lodged charges against them including subornation of perjury (encouraging witnesses to lie) - a charge which was dropped several months later. Talifaferro was fired from his job.
Schwab and Taliaferro assert that South Dakota discriminates against Lakota foster children and their mothers, fathers, grandparents and relatives. On December 19, 2011 The Aberdeen News reported that Taliaferro as saying "it is financially beneficial for the DSS to remove American Indian children from their homes and place them in [white] foster homes." In official papers filed with the State Department of Labor to appeal his firing, Taliaferro claimed "[Had I followed] the orders of [my boss], State Attorney Kim Dorsett, [with respect to the Mette investigation, it] would have required me to violate the law, and ethical rules that govern attorney conduct." Mr. Taliaferro asserts that in 2011 he refused to participate in "a cover-up of misconduct" by the DSS.
Lakota People's Law Project Chief Counsel Daniel Sheehan described the negative impact this trial will have on child advocacy in South Dakota: "This criminal prosecution by Attorney General Jackley of two state officials for carrying out their legal and ethical responsibilities, with the apparent consent and support of Governor Dugaard, sends a clear message to court officers and state employees to be quiet about the abuses like those revealed in the National Public Radio series and confirmed by a recently written report to Congress by the Indian Child Welfare Act Directors of the nine Sioux tribes in South Dakota."
For more in depth reporting about the Schwab Taliaferro trial, see "Rough Justice in Indian Child Welfare" by 100 Reporters journalist Stephanie Woodard.
The Lakota People's Law Project has been partnering with tribes and leaders in South Dakota since 2005 from its office in Rapid City to challenge more than 150 years of injustice against Native American families. These activities have included funding and supporting Native experts to provide technical assistance to the tribes on family and child welfare issues. The Lakota People's Law project combines public interest law, research, education, and organizing in a unique model for advocacy and social reform.
The Lakota People's Law Project is sponsored by the non-profit Romero Institute based in Santa Cruz, California. The Institute is named after slain human rights advocate Archbishop Oscar Romero of El Salvador. The Institute seeks to identify and dismantle the structural sources of injustice and threats to the survival of our human family.