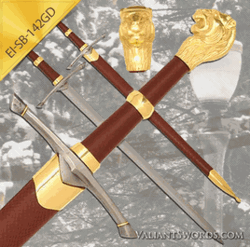 This special sale gives customers an instant 5% off on all items and all orders.
(PRWEB) January 08, 2013
While the holidays are over, seasonal savings still continues at Valiant Swords, who is currently running a winter sale. This special sale gives customers an instant 5% off on all items and all orders. This discount is on top of merchandise already marked down 10-40% off and includes new items and those in the Super Sword Sale section. To get a coupon code that can be redeemed upon checkout, visit the store's homepage.
As the new year begins, there is no better time to stock up on swords for the year's upcoming events. Whether it is learning or perfecting the art of sword fighting, snagging a weapon for a media production, adding to the collection of display swords, or acquiring birthday gifts, Valiant Swords features a plethora of swords, knives, and accessories for all occasions. Crafted from high quality material, this vendor offers Japanese Samurai swords, premium Medieval swords, Roman swords, Greek and Viking swords, Civil War swords, fantasy swords, and a whole lot more.
Among the most popular swords is "The Chronicles of Narnia" Peter's sword coming direct from the silver screen. Forged of carbon steel, this is a beautiful sharp, two-handed sword piece. The head of Aslan appears on the steel gold-finished pommel with a brown handle containing alternating bands of gold finish. This sword is also accompanied by a matching brown sheath that makes for a snug fit. Indeed, this weapon is bound to bring about victory for any war in Narnia or elsewhere.
Another popular item comes from the gaming world of "Assassin's Creed" with the Sword of Altair. Altair is an Arabic phrase meaning "the flying eagle" and has been around since medieval times, and has now come to be recognized as the name of the protagonist of the famed video game. This official replica pays homage to the name's origins with an eagle-headed pommel and winged cross guard with deep feather-like grooves, just like the game. This piece has a handle wrapped in suede with a matching scabbard and is 38" in length. This is sure to be a welcome addition for any collector or "Assassin's Creed" fan.
To view the complete sword catalog, hop on over to http://www.valiantswords.com/