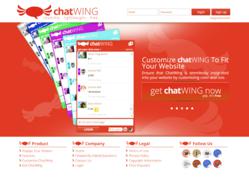 Omaha, NE (PRWEB) January 06, 2013
In the online arena, the game is all about reaching the most people and getting one's message across or the person who has the most contacts wins. Even in real life, people who have a huge network find more opportunities through their friends than people who interact within a limited circle. Emphasizing the importance of online visibility, Chatwing.com announces a social media overhaul in its newest and chat widget.
Chatwing's web chat tool has a social media integration option that makes the chat widget accessible to millions of Facebook and Twitter users. The chatbox may appear simple yet it has a thousand-user capacity, giving its user reliable communication leverage. The social media option works in such a way that while maintaining the site, users can keep their Facebook accounts active by easily sharing valuable chat conversations from the widget to their Facebook profile walls. For businesses, positive feedbacks and testimonials are effective marketing tools.
The chat box is easy to install and use. It offers web users numerous ways to modify the chat widget until it fits their sites theme. It can also be installed as a regular shoutbox or pop-up window that saves up space. The latest chatroom version also allows image and MP3 link uploads.
Concerned with the premise of social media connectivity, the company is now ready to offer the chat software to bloggers, forum makers, and thousands of web users across the Internet. Since there are hundreds of niches to cover, the online chatroom will become useful in many instances.
About Chatwing.com
Chatwing.com specializes in the new field of website chat. Over years, the development team has introduced live chat widget for hundreds and thousands of blogs. The application bridges people from many parts of the world, creating global synergy through the Internet. The shout box can be installed in just seconds, and it can be used for varying purposes such as leisure and Internet marketing. It also allows a user to customize the size, color, and name of the widget.