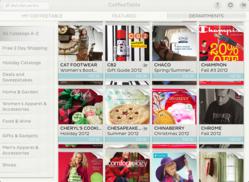 Retailers now understand that couch commerce is a daily habit for their current and prospective shoppers, so having a multichannel marketing strategy that includes a focus on that is essential – because if a brand is not there, its competitors will be
San Francisco, CA (PRWEB) January 03, 2013
CoffeeTable, the top-ranked catalog shopping app for the iPad®, iPad Mini®, and iPhone®, saw its digital catalogs skyrocket in usage during the holiday shopping period. The app experienced three times the engagement with brand partners through its targeted holiday initiatives, including the launch of its new loyalty rewards program. On December 7, CoffeeTable introduced a "12 Days of Perks" holiday promotion, which revealed exclusive daily sales and giveaways for active CoffeeTablers, and also offered free shipping for last-minute shoppers. CoffeeTable and its retail partners monitored shopper engagement with its proprietary analytics dashboard and saw notable spikes in catalog opens, purchases, and more.
As a result of the 12 Days of Perks holiday promotion, CoffeeTable experienced a heavy increase in catalog opens (up two to three times average) and purchases, and saw three times more activity (e.g., sharing and saving products) within the app. These higher than average engagement rates sustained throughout the month of December and into the New Year. The limited-time nature of the promotion and the new loyalty program gave shoppers another reason to come back to the app everyday and use CoffeeTable's personalization functions to save, share, and love catalogs.
Results
After the first week of the "12 Days" promotion, CoffeeTable also observed a second wave of increased engagement, especially among last-minute shoppers using the app on the iPhone. This sudden increase in engagement and catalog opens showed participating retail partners how shoppers are choosing to engage with their brands digitally. Participating brands such as Modify watches and Ghirardelli saw a high volume of sales via CoffeeTable upon being featured on one of the 12 days. Additionally, brands that offered free shipping to last-minute shoppers, such as premier paperie brand Paper Source, received a boost in sales and saw industry-leading catalog conversion rates. These results showed the value in partnering with CoffeeTable as an avenue to market brands digitally on tablets and smartphones.
Couch Commerce Trends and Beyond
During the month of December, CoffeeTable continually saw shopper engagement peak in the nighttime, prime "couch commerce" hours, making it evident that tablet shopping (often on the couch or in bed) is a fundamentally different experience than shopping on a computer. Additionally, with CoffeeTable's proprietary retailer analytics dashboard, brands have been able to collect unprecedented insights about how shoppers engage with their catalogs. With this data, retail partners have learned how to correctly merchandise products in their catalogs such as discovering what types of cover images work best with their consumers.
Ben Choi, CEO of CoffeeTable and mobile commerce expert, saw 2012 as the year that couch commerce went from early adopter to mainstream. "Retailers now understand that couch commerce is a daily habit for their current and prospective shoppers, so having a multichannel marketing strategy that includes a focus on that is essential – because if a brand is not there, its competitors will be," said Choi.
He also believes the "discovery engine" (vs. the search engine) will become increasingly important as a marketing vehicle in 2013. "Shoppers are looking to get inspired – Google and Amazon have their place when people know what they want, but many shoppers are looking to the Internet and e-commerce to get ideas for purchases," noted Choi. "Shoppers may not always know exactly what they're looking for, but they'll know it when they see it. CoffeeTable helps you find what you love and love what you find."
CoffeeTable continues to provide data to its retail partners to help them market their brand better in 2013. With CoffeeTable's growing success, it continues to add new marquee retail partners, such as department store giant, Nordstrom. Its services also continue to evolve with mobile shopping trends and consumer demands.
Since its launch in 2011, CoffeeTable has risen to become the number one catalog app in the App Store and its user base continues to expand. With more than 190 brands choosing CoffeeTable as their tablet partner, allowing retailers to expand their brand and get real-time shopper data. More information on how CoffeeTable drives ten times sales attribution to retailers can be found here http://coffeetable.com/4-case-study/.
For more information about CoffeeTable, please visit http://coffeetable.com.
About CoffeeTable
CoffeeTable is a free catalog shopping application for the iPad and iPhone, aggregating leading retailers and boutiques into a single app for a premium browsing, shopping and purchasing experience. Established in the fall of 2011, CoffeeTable has already earned a top spot in the Catalogs category in the Apple App Store, secured multiple rounds of funding and features over 190 U.S. brands including Express, Sephora, Crate and Barrel, West Elm, Harry & David, Lands' End and more. CoffeeTable is financially backed and supported by RR Donnelley, the world's premier content aggregator, distributor, and marketing services provider.