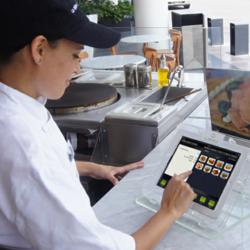 Smaller businesses can now consider using a POS system rather than a cash register
Albuquerque, NM (PRWEB) January 08, 2013
A new iPad based software product released today will allow smaller merchants a chance to run a powerful point of sale solution and retire their outdated cash registers. Software developers Lavu Inc. today announced the release of Lavu Lite, a streamlined version of their popular POS Lavu restaurant point of sale for iPad.
"We wanted to make a point of sale solution available to every business, regardless of their budget. It was important to us to offer a solution with powerful features generally associated with expensive upscale solutions, yet at a cost that smaller businesses could afford. With no upfront licensing fees and the lowest monthly hosting fees, we have hit our mark," said Andy Lim, CEO for Lavu Inc.
A software option with a robust feature set and back of house management tools was not previously attainable for many businesses who only require a single POS terminal. A 14 day free trial gives business owners a chance to make sure Lavu Lite meets their requirements, and no credit card is needed for signup.
"What also makes this so appealing to merchants is the immediate setup: you can sign up for an account and begin accepting credit cards right away. You can even key in transactions until your free SAILpay card swipe arrives," said Travis Kellerman, VP of Operations at Lavu Inc.
Outstanding cost benefits include:

no upfront fee
no transaction fees
low processing rate of 1.95%
no contracts for processors, no contracts for software
affordable $39 monthly fee covers all updates and cloud data hosting
These rates are made possible through Lavu's recent integration with the SAIL payment-as-service platform, with no transaction fee and a low credit card processing rate of 1.95%. "The SAIL platform delivers a flexible payment experience that Lavu is leveraging to provide the level of security and reliability that businesses and consumers have come to expect," said Brian Hamilton, vice president of SMB Commerce with SAILpay.
Lavu Lite is considered a "full-featured" point of sale because, unlike other card processing iPad terminals on the market, Lavu Lite has advanced functions that help a small business stay efficient. A few features offered with the Lavu Lite product include:

multiple service types include table, tab, and quick serve
employee timecards with clock in / clock out
detailed item modifier system
comprehensive reports
kitchen printing
"Our main goal is to help the customer. Smaller businesses can now consider using a POS system rather than a cash register," reports Andy Lim, CEO of Albuquerque based Lavu Inc.
Lavu Lite seamlessly integrates with two Star Micronics printers: TSP654 and SP742. The TSP654 offers high reliability and performance at a low cost, as well as, fast printing at 150mm per second. Drop in print paper loading make changing rolls quick and simple. In contrast, Star's SP742 is built specifically to work in environments, such as restaurant kitchens, where heat and humidity can erode the type on thermal paper. The SP 742 offers its users crisp two color impact dot matrix printing and an internal power supply for space efficiency.
Lavu Lite was designed for the quick serve market, as well as for smaller restaurants and bars. Since the limit is a single terminal per location, the business models best suited for Lavu Lite would be coffee shops, bakeries, smaller pubs, and restaurants who can run all orders through a single device.
Zephyr Hardware has teamed up with Lavu to create a pre-configured hardware bundle "in-a-box" solution to simplify the acquisition and setup of the point of sale hardware for Lavu Lite customers.  The bundles will also be offered with a financing option to eliminate all up front fees.
Lavu Lite is available in the Apple App Store for iPad, iPod, and iPhone. A 14 day free trial is available and recommended to ensure the product is a good match for the merchant. No credit card is required for free trial signup.
For more information go to http://www.lavulite.com
About Lavu
Founded in Albuquerque, NM and operating worldwide, Lavu Inc. was formed as a solution to common point of sale problems and restaurant industry issues. Lavu Inc. offers Lavu Lite and POS Lavu as full-featured point of sale software solutions at a fair price. Lavu teams with preferred dealer Zephyr Hardware to work with Gordon Ramsay to assist failing restaurants on Fox TV's hit show Kitchen Nightmares, with six episodes on seasons 5 and 6.