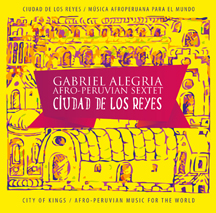 We're definitely on a crusade to spread Afro-Peruvian jazz music to the world. We want it to become part of the language of jazz, and the more we play it and the more feedback we get, the more confident we become that this will be the case.
Richmond, CA (PRWEB) January 03, 2013
Since the release of their 2008 debut, "Nuevo Mundo," trumpeter-composer Gabriel Alegría and his Afro-Peruvian Sextet have been blazing a new musical path as they develop and popularize Afro-Peruvian jazz in the United States, Alegría's native Perú, and beyond. The group's stunning new CD, "Ciudad de Los Reyes" (City of Kings), which will be released on February 12 by Alegría's Saponegro Records, represents a culmination of their efforts to establish Afro-Peruvian jazz as a genre unto itself.
"We want the music world to start to really hear and feel Afro-Peruvian jazz music as what it is: a unique and separate brand of Latin jazz that warrants consideration and placement alongside Afro-Cuban and Brazilian jazz," says Alegría.
The Afro-Peruvian Sextet divides its time between performing in the United States and Perú. Alegría, Laura Andrea Leguía, Freddy "Huevito" Lobatón (the Sextet's main hand percussionist and dancer), guitarist Yuri Juárez, and drummer Hugo Alcázar are Peruvian by birth and upbringing. Bassist John Benitez was born in Puerto Rico and has long been one of the most in-demand jazz musicians in New York City. When Alcázar—who incorporates a cajón into his trap drum kit and, according to Alegría, "singlehandedly created the whole language for the drums in this style"—is unable to travel to the U.S. due to family obligations, North Carolina–born drummer Shirazette Tinnin takes his place in the band.
All 13 selections on "Ciudad de los Reyes," with the exception of Henry Mancini's "Moon River," were composed by Alegría or Leguía. Dance-derived Afro-Peruvian rhythms known as festejo, landó, tondero, valse, or zamacueca—all rooted in 12/8 time—are employed throughout.
"Jazz music is predicated on listening and interacting," Alegría says. "There's a swing pattern and different things that are cues for musicians, but there's no set pattern that you have to obey the whole time. That is the same concept by which traditional Afro-Peruvian music is performed. There's no clave. The cajón players have base patterns much like a jazz drummer has the ride cymbal pattern. The patterns are meant to be interpreted throughout the continuity of a tune. They can go here; they can go there."
Gabriel Alegría, 42, was born and raised in Lima, Perú, which in colonial times was known as the City of Kings before it was Spain's capital in the New World. Throughout his life he has divided his time between Perú and the United States. He attended high school in Gambier, Ohio, where his famous playwright father, Alonso Alegría, was a visiting professor at Kenyon College at the time. Playing an arrangement of "'Round Midnight" in his high school band led him to purchase a Miles Davis recording of the tune. The difference between the chart he was playing and the way Davis played it was a revelation to the 16-year-old trumpeter. The realization that "You can do your own thing with something and create your own ideas and identity" would help him years later in merging the Afro-Peruvian sounds of his homeland with American jazz music.
After receiving his bachelor's degree at Kenyon, Alegría enrolled at City College of New York and earned an M.A. under the tutelage of Ron Carter. He then returned to Perú for seven years, five of them spent in the trumpet section of the Lima Philharmonic while moonlighting as a jazz and rock musician around the capital city. He relocated to Los Angeles and spent four and a half years at the University of Southern California, earning his doctorate degree in 2007. While at USC, Alegría studied, worked, toured, and recorded with his mentor Bobby Shew, vocalist Tierney Sutton, trombonist Bill Watrous, and keyboardist/composer Russell Ferrante.
The trumpeter was then appointed to the jazz faculty at New York University and has been a resident of New York City ever since. His NYU colleagues include jazz luminaries such as John Scofield, Kenny Werner, Chris Potter, Wayne Krantz, Billy Drummond, and Stefon Harris. With Alegría's arrival, NYU has become an important platform for Afro-Peruvian jazz music including theoretical and practical courses on the subject. In addition, NYU fields two touring Afro-Peruvian ensembles each semester.
Following its 2008 recording debut with "Nuevo Mundo," the Afro-Peruvian Sextet released two more albums on Saponegro Records: "Pucusana" (2010) and "El Secreto del Jazz Afroperuano" (2012).
Once per year, fans of the band are invited to accompany the Sextet on the road in Perú, thereby gaining a unique perspective and insight into jazz, culture, and food in the southern hemisphere. While the concept of fans following a band on the road is typically associated with rock and pop bands, two such Afro-Peruvian jazz tours are scheduled for 2013, the first of which is now in progress. Tour participants effectively become an intrinsic part of the band's "ecosystem," experiencing everything from show production to marketing while on the road with the band.
In addition to the Sextet's Peruvian tours, the following North American dates have been scheduled: 2/21 Zinc Bar, New York City; 3/5 Blues Alley, Washington, DC; 3/15 Drom, New York City; 3/17 Club Café, Pittsburgh; 3/18 Erie (PA) Museum; 3/19 Nighttown, Cleveland; 3/21 Rosse Hall, Gambier, OH; 3/22-23 Natalie's, Columbus, OH; 4/13 Somethin' Jazz, New York City; 6/4-10 Tour Perú; 6/25-26 Medicine Hat (CA) Jazz Festival; 6/27 Edmonton (AB) Jazz Festival; 6/28 Victoria (BC) Jazz Festival; 6/29 Vancouver (BC) Jazz Festival; 7/8 Halifax (NS) Jazz Festival; 8/3-4 Kaslo (BC) Jazz Festival.
"We're definitely on a crusade to spread Afro-Peruvian jazz music to the world," says the trumpeter. "We want it to become part of the language of jazz, and the more we play it and the more feedback we get, the more confident we become that this will be the case."