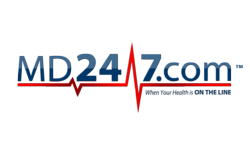 MD247 Reviews 2013 Resolutions.
(PRWEB) January 03, 2013
On January 03, 2013 MD247 issued an alert to all of its telemedicine program members regarding quick and clear resolutions by which to build toward 2013 health success.
With the New Year, there is always an opportunity for a fresh start in every area of your personal life. For some, this means making resolutions to live a healthier lifestyle and getting on board for the weight loss journey. Should a healthier life and a lower final number on the scale be your goal, MD247 suggests follow these easy resolutions to keep the journey on the correct path.
You Need More Sleep
Eat a Fruit or Vegetable with Every Meal
Find a Form of Exercise That You Love
End the Negative Self-Talk
Stop Worrying About Trivial Things
Cook at Home
Cut Back on Sugar
MD247 encourages all telemedicine program members to contact its chat with a doctor hotline before they start making plans for health and fitness resolutions. If someone is not a current telemedicine program member, but wishes to learn more about the program, they are encouraged to visit http://www.md247.com.
Largo Florida based MD247.COM (MD247; MD/247; MD 247; M.D.247; MD-247) provides an affordable telemedicine supplement to existing healthcare services. MD247.COM telemedicine program members have unlimited telephone access to a nationwide medical support team, all with just a single phone call to the MD247.COM telemedicine Chat With a Doctor/Talk to a Nurse Hotline. MD247.COM has a virtual platoon of registered nurses; board certified physicians and a support staff available to members for all non-emergency situations. More information about MD247.COM is available online at http://www.md247.com.