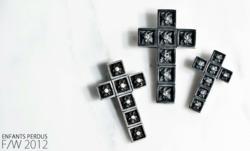 "We speak to the outsider, the unique individual... who always stands out."
New York, New York (PRWEB) January 07, 2013
While choosing the trends to look at this season, designer jewelry has seen a resurgence in gothic. The streets of many metropolitan areas are buzzing with gothic style jewelry, such as sterling silver, antiqued gold, heavy chains, and skull pieces. Popular blog sites such as: Who What Wear, Refinery 29 and Daily Candy, capture popular street wear from everyday people, who have exceptional style. The new 'Riemann' collection from Enfants Perdus offers a darkly romantic collection that seizes upon these beautiful pieces.
Enfants Perdus is a modern, yet sophisticated luxury accessories line that embraces the trends of the independent trend setter, while still keeping true to it's original purpose. "Enfants Perdus speaks to the outsider, the unique individual," says senior designer, Quatre Tsien. "With each piece I design, we're catering to the wanderer. The person who brings their own sense of home with them, who is everywhere and nowhere. The person who always stands out."
Each carefully designed jewel is crafted from 18-karat gold, sterling silver, and precious gems. With high-quality craftsmanship in every piece, clients are offered a unique offering that combines artisan dedication to detail and design vision.
Enfants Perdus has appeared previously in publications such as: Refinery 29, Allure and Sense. Clients from around the world are collectors of the fine jewelry from many collections throughout various seasons. With a perfect balance of masculine and feminine characteristics, Enfants Perdus makes the perfect gift for anyone close to your heart, or as a special gift for yourself to help express your creativity and individualism.
The collection retails from $280 USD to $480 USD, and is available online at the Enfants Perdus' online shop, as well as select boutiques worldwide.
Complimentary expedited shipping is provided worldwide to all clients.
Our online shop:
http://www.enfantsperdus.com/shop
Lookbook for the Riemann Collection:
http://www.enfantsperdus.com/press/enfantsperdusRIEMANN.pdf