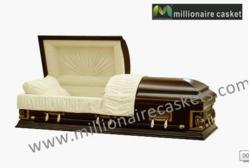 We offer all kinds of caskets at affordable prices!
(PRWEB) January 03, 2013
Today, MillionaireCasket.com, a China casket company, announces its new website. MillionaireCasket.com is a professional website offering the full range of caskets. People can find a lot of casket descriptions, commentary, purchasing tips, and so forth, on the new website.
According to Zoe Wong, CEO of the company, the new site is to help each casket distributor keep informed about the most popular designs, and helps people to choose cost-effective products directly from its original manufacturer before purchase.
MillionaireCasket.com hopes to provide customer more choices with fast delivery, and explore its market share as well.
"Take your time and talk over choices and options and honor your loved one by giving them the ability to have exactly what they want. That can be the best way to honor them since that's the last opportunity you may have." Said, Zoe Wong.
Zoe Wong continued, "We have much experience in the casket industry, and can help each person who would like to buy a church truck or casket online. If customers cannot find their styles or sizes in our catalog, please don't hesitate to contact with us, and we will not let you disappointed."
About MillionaireCasket.com
MillionaireCasket.com is a leading casket manufacturer. This company offers an exquisitely crafted line of all kinds of metal caskets, wood caskets, veneer caskets, cremation caskets, rental caskets, orthodox caskets, infant or over-sized caskets. The standard quality control policy is strictly applied here, and a third party quality assurance is also available.