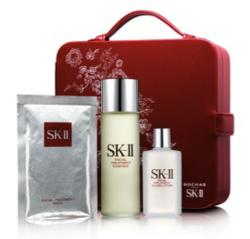 Singapore (PRWEB) January 17, 2013
Luxola.com, an online retailer of popular international cosmetic brands in Southeast Asia, recently announced plans to expand their existing line-up of skincare and makeup products. Among the new additions include skincare and cosmetic giants SK-II and Maybelline New York.
Camille Schu, Regional Marketing Director for Luxola.com, said, "We are happy to be the first in the region to stock original, authentic SK-II and Maybelline products as the two brands have been a long time beauty staple in Asia. No other online beauty stores in the region has ever had this privilege and we are proud to be the first."
Luxola.com currently stocks some cult favorite and hard-to-get international brands such as Sleek Makeup, Sigma Beauty and Deborah Lippmann; and continues to expand their catalogue to cater to the demands of beauty lovers in Southeast Asia. Other recent new arrivals to make it on to Luxola's repertoire include NUXE, the Konjac Sponge Company and Swedish Skincare.
"With this great milestone, we hope to continue to build relationships with more international cosmetic companies to bridge the gap between makeup lovers in Southeast Asia and favorite international brands. We are constantly listening to our followers and steadily increasing our inventory every month," Schu added.
Luxola often holds special and seasonal offers for their cosmetics online. Shipping of their products is free within Singapore while shoppers from Indonesia, Malaysia, Thailand, Brunei and Hong Kong will receive free shipping for orders above a certain amount. Fans can also receive news and updates on their latest offers by signing up for their email newsletter or by following the company on Facebook, Twitter or Pinterest. To shop for these brands and more, visit http://www.luxola.com.
ABOUT LUXOLA
Luxola.com is the first online luxury best buy cosmetics and skincare site in South East Asia, as well as the first to be 100% backed by every brand they work with, ensuring that customers are receiving authentic products each and every time they order. The online beauty store http://www.luxola.com was launched in Singapore over a year ago and now ships to Malaysia, Indonesia, Thailand, Brunei and Hong Kong.