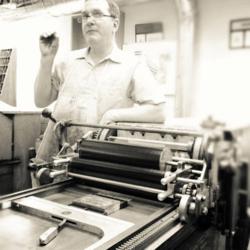 "Paul Moxon really knows his stuff when it comes to Vandercooks. It's really about the small details, the nitty and the gritty that make the prints shine." Amanda – Silverplate Press
San Francisco, CA (PRWEB) January 03, 2013
Join the San Francisco Center for the Book and the Bay Area letterpress community for a lecture by visiting instructor, and letterpress expert Paul Moxon.
This presentation will outline a brief history of Vandercook & Sons, its key personnel and press models. It will also survey the shift from commercial prepress work to high quality edition work by fine press printers, book artists and boutique stationers.
Plan to attend one or both of the San Francisco letterpress workshops with Paul Moxon. Click on each link below for more information and/or to register.
Proof Press Finesse
January 17 and 19, 2013/ 9:30 - 5:30
Developed for intermediate printers, this problem solving workshop will help improve the technical quality of your presswork. With a focus on production printing using proof presses we will closely examine the control of inking, cylinder packing, proper height of plates, form imposition, lockup and registration aids. By standardizing materials (as much as possible) we will do "minimum makeready" to achieve maximum results — just like Vandercook intended. Bravely bring examples of your worst printing to critique in class.
Vandercook Maintenance
January 19 and 20, 2013/ 9:30 - 5:30
In this two-day workshop, with visiting instructor and letterpress expert Paul Moxon, participants will learn all the points of maintenance, cleaning and lubrication so as to be prepared for potential problems and make or direct repairs.
About Paul Moxon
Paul Moxon is a studio letterpress printer; internationally known workshop instructor and author of Vandercook Presses: Maintenance, History and Resources. He is editor of the American Printing History Association Newsletter, prints for hire and publishes limited edition books and broadsides under the imprint Fameorshame Press. This work is included in several public and private collections. This evening promises to be a fascinating time for beginners and skilled letterpress printers alike.
About the San Francisco Center for the Book
The San Francisco Center for the Book fosters the joys of books and bookmaking, the history, artistry, and continuing presence of books in our culture and enduring importance as a medium of self-expression. We provide both a home for Bay Area book artists and a place where the wider community can discover book arts. Everyone is welcome here, experienced practitioners and newcomers alike. Over 300 workshops annually offer learning at all levels: from introductory to focused advanced courses spanning traditional bookbinding, cutting-edge printing techniques and experimental book forms. Exhibitions are designed to inform and inspire visitors. Free public programs include opening receptions for the exhibition program, poetry readings, book release parties for our publications, gallery talks, Open Houses and other community events like the annual Earth Day Extravaganza and Roadworks Street Fair.