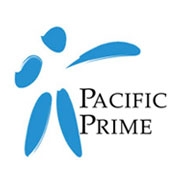 William Russell has always focused on delivering high quality plans at affordable rates to our clients; they continue to do this in a sustainable way.
Hong Kong (PRWEB) January 04, 2013
Pacific Prime has always worked closely with dedicated international health insurer William Russell, but 2012 in particular recorded the best financial results to date with the rate of new business increasing and with the total portfolio up by 10 percent since 2011.
Several factors have undoubtedly contributed to the insurer's recent success, but Pacific Prime mainly puts the positive performance of 2012 down to the opening of a new sales support office in Hong Kong, which has enabled William Russell to provide improved support to clients across Asia.
Pacific Prime clients attached to William Russell policies will also be pleased to hear premium rates have been released and have come in well below the global average of the past 5 years. The Inpatient Bronze plan premium will be set at 7 percent, the Silver plan at 7.5 percent and 9 percent for the comprehensive Gold plan.
Premium increases are in line with William Russell's past performance and are also below average for rates released by all other health insurers so far, with the exception of Allianz Worldwide Care and Interglobal.
Pacific Prime clients attached to Platinum William Russell plans will still be able to renew their plans in 2013 but all new business for this particular plan will no longer be accepted. Analysts puts this down to the Platinum plan's lack of competitiveness in this segment of the market and William Russell returning their focus back on to their core plans; Gold, Silver and Bronze.
Neil Raymond, CEO of Pacific Prime commented: "William Russell has always focused on delivering high quality plans at affordable rates to our clients; they continue to do this in a sustainable way. The recent changes to the plan benefits on Gold, Silver and Bronze plans are very positive…"
William Russell has always been a key player in Asia and has developed a very clear understanding of Hong Kong's unique pricing structure for surgeon and anesthetist fees. While somewhat illogical, Hong Kong surgeons can charge patients staying in private rooms more than those staying in semi-private accommodation.
This system has remained unchanged for some time and is unlikely to change in the near future. In consideration of this, William Russell has enabled Pacific Prime to offer its clients a discount between 7.5 to 15 percent on premiums if a patient is restricted to a semi-private room.
Pacific Prime believes this has contributed towards William Russell's success in the region and would encourage other insurers in Hong Kong to offer this option to clients.
A successful year, as well as 20 years worth of experience in the health insurance industry, has put William Russell in a very positive position in what is quickly becoming an extremely competitive market. Pacific Prime is confident that its clients partnered with William Russell can expect more good news from 2013.