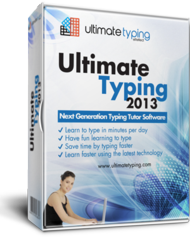 From beginners to advanced typists, Ultimate Typing makes sure that there will be something for everyone...
New York City, NY (PRWEB) January 07, 2013
There are a lot of things that have been said about Ultimate Typing by those who have tried it, and most – if not all – of those comments are rave reviews about how efficient the program is as a fast typing tutor.
Recently, review site VocabularyBuilding.org came out with their own review for the tutorial software, and once again, the software was given excellent ratings by the reviewer. According to the site, they found Ultimate Typing to simply be the best product out of all typing tutorial software programs today.
What they found most impressive about Ultimate Typing is the fact that there are a wide range of exercises and activities lined up for all kinds of learners. From beginners to advanced typists, Ultimate Typing makes sure that there will be something for everyone, and that all users will leave the program typing faster and better than they ever did before.
The unique features of the software enable the learner to not only set their own pace through the levels, but also to customize the software according to their own skill sets. There are options that the user can take to choose which exercises they will focus on, although VocabularyBuilding.org recommends that the user go through all of them to get the most benefit.
For those who are new to touch typing methods, there are the beginner's tutorials, each of which starts with video illustrations clearly showing the user the proper finger placement. Each video is then followed by the exercises for correct finger strokes, supplemented by more activities that will allow the user practice what they've just learned in the lessons provided.
Other unique features given high marks by the review site are the multi-user capacity of the software, as well as the ability to import documents into the program so that they can be used as additional typing exercise material. The review also made note of the very user-friendly interface, as well as the readily available online help and support desk.
All in all, the review gave Ultimate Typing outstanding marks for all of these aspects, rating it as a top-notch typing tutorial.
For more information about the Ultimate Typing software, visit http://www.ultimatetyping.com/.
ULTIMATE TYPING SOFTWARE is a tutorial program designed specifically for the improvement of typing skills. It was created by eReflect, a world leader in e-learning and self development software.
Since its creation in 2006 by its director, Marc Slater, the company has already catered to over 112 countries all over the world, offering products with the latest cutting-edge technology, some of which are among the world's most recognized and awarded in the industry.