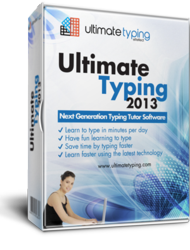 The reviewer for this site has taken a very close look at the software, examining its strengths and looking for weaknesses.
New York City, NY (PRWEB) January 08, 2013
Not everyone has the time to enroll in an online typing class. Although there's a great deal of value in learning how to increase typing speed and learn to touch type, people are often without the free time such courses generally require. It's hard to find classes that only take up 15 minutes out of every day.
Fortunately, Ultimate Typing offers a complete set of learning programs, designed to improve the skills of the typist, that can be done in half that time – just seven minutes a day is required. This abbreviated schedule might seem unrealistic, and several software reviewers expressed concern that this training period might be too short, but once the reviewers started using the software, they saw for themselves how easily these flexible mini-sessions improve typing skills. One such review came from top user review site OnlineBachelorsDegreeSuccess.org.
The reviewer for this site has taken a very close look at the software, examining its strengths and looking for weaknesses. In the end, the reviewer decided that Ultimate Typing is as nearly perfect as any typing tutorial program can get.
Not only is Ultimate Typing ideal for students who have to spend a lot of time typing up academic papers, it also greatly benefits people who are already working and who would like to improve their work efficiency. In fact, it's even helpful for young children who would like to start out using the proper way to type, something that can only help them far into the future.
As the review notes, this flexibility is one of the best things about the Ultimate Typing tutorial program. The lessons cover a wide range of skill levels, making it versatile enough to accommodate any user. From beginners to intermediate to advanced typists, Ultimate Typing has a series of practical exercises that they can work on to further improve both speed and accuracy.
Speed isn't the only focus of the program, however. The software developers designed Ultimate Typing to ensure that users learn how to type properly, with the correct form and maximum efficiency. Because the program first deals with the underlying principles and elements of typing, people who use this program have a solid basis to build on, and are able to maximize their typing abilities.
Ultimate Typing Software not only makes good on its promise to deliver results, it also encourages the user to continue to increase their typing skills, providing customized support along the way.
For more information about the Ultimate Typing software, visit http://www.ultimatetyping.com/.
ULTIMATE TYPING SOFTWARE is a tutorial program designed specifically for the improvement of typing skills. It was created by eReflect, a world leader in e-learning and self development software.
Since its creation in 2006 by its director, Marc Slater, the company has already catered to over 112 countries all over the world, offering products with the latest cutting-edge technology, some of which are among the world's most recognized and awarded in the industry.