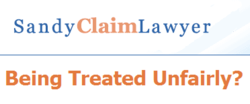 Fair treatment, swift payouts, no underpaying, and to be taken seriously. That's how we can help...
Atlantic City, NJ (PRWEB) January 08, 2013
A dedicated help center for Hurricane Sandy damage victims has been launched, SandyClaimLawyer.com, and is now offering free, no obligation legal claim reviews for people who feel their insurance companies are not dealing fairly with them, or feel the process is proceeding too slowly.
In the aftermath of Hurricane Sandy, many of the storm's victims are still dealing with insurance companies, delays, underpayments and policy disputes. Though you would expect that all of the victims of this horrendous natural disaster would be treated fairly in the resolution of their damages and financial burdens, unfortunately this is not always the case.
SandyClaimLawyer.com is now offering legal help to Super-Storm Sandy victims that feel they are not being treated as they should. The law firm is offering a free legal review claims review so that victims can get the help they need quickly and receive and ensure fair and equitable treatment from their insurance company.
To have a claim reviewed, victims simply need to visit the SandyClaimLawyer.com website and fill out the consultation form on the right side of the page. An attorney will review the information and will contact the policy holders and provide a free legal review of their options. Don't delay, because there is a time limitation for submitting damage claims and disputes in connection with Hurricane Sandy.
According to the site, legal representation when dealing with ones insurance provider can help ensure:

Fair Treatment
Swift Payouts
No Underpaying by Insurance Company
"Insurance companies don't always want to pay on claims, but we are here to make sure they play fair and compensate the victims who have already suffered so greatly due to Hurricane Sandy as their policy demands," said Donald Worley, lawyer with the site.
Disaster settlements from insurers have a history of taking a long time to reach residents, as witnessed during Katrina, in which 17 months for a settlement agreement with State Farm according to a NYTimes report.
According to the Consumer Federation of America, there will be roughly 400,000 claims filed and the total claim payments will be in excess of $50 billion. That is nearly 60% more than is available in the funds of insurers and government agencies.
Attorney Donald Worley added, "Residents deserves to be treated with dignity and respect. Our lawyers are standing by to ensure the residents concerns are not ignored, not delayed, and not underpayed."
He went on to say that there is a time limitation for submitting damage claims for Hurricane Sandy in connection with Hurricane Sandy, and available money is limited making it vital that residents seek legal representation immediately.
About SandyClaimLawyer.com:
NY licensed, the experienced attorneys ensure Sandy victims concerns are not ignored, and fight on their behalf for fair treatment and swift resolution.
People who feel they are being mistreated, ignored, delayed, or underpayed, click here to get a free legal case review today: http://www.sandyclaimlawyer.com