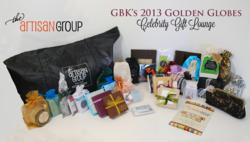 The Artisan Group was a sponsor of GBK's Gift Lounge for the Golden Globes in 2012. Members last year gifted Jennifer Love-Hewitt, Jeremy Irons and Elizabeth McGovern among many others.
Sunnyvale, California (PRWEB) January 03, 2013
The Artisan Group™ (http://www.theartisangroup.org), a by invitation only collective of over 600 talented business artisans, will be gifting celebrities at GBK's Luxury Gift Lounge in Honor of the 2013 Golden Globes Nominees and Presenters. The Gift Lounge will take place January 11-12, 2013 at an exclusive location in Beverly Hills, California.
In addition to being gifted to celebrities and the press, the work of select members of The Artisan Group will be showcased on display. The Artisan Group will also be gifting GBK's 2013 charity beneficiary, to be announced in the coming days.
"The Artisan Group was a sponsor of GBK's Gift Lounge for the Golden Globes in 2012 and I can tell you they put on an extraordinary event," said The Artisan Group Founder Valerie Guerrero. "Members last year gifted Jennifer Love-Hewitt, Jeremy Irons and Elizabeth McGovern among many others. Our products were well received and we're excited to participate again this year."
The Artisan Group's gift bag is valued at over $1,400.00 and will contain an assortment of handcrafted jewelry; spa and bath products; handcrafted clutches; hair accessories; sewn coffee cozies and fine art photography, to name a few. Watch The Artisan Groups slideshow video to see Celebrity Gift Bag contents.
Participating members gifting the celebrities at GBK's Luxury Gift Lounge for the 2013 Golden Globes include Kelly Alflen, Scrabble Babble Boutique; Andrea Bernstein, AB Glass Jewelry; Laura Bisel, Bizzy Fizz Bath Treats; Nita Blum, Golden Plume Handcrafted Jewelry; Tiffany Bobb, Tiffany Victoria; Lisa Burek, Lisa Burek Jewelry; Elizabeth Copeland, E Couture Designs; Sandy & Stevie D'Andrea, Jewels For Hope; Christina Kling-Garrett, Klings & Things Photography; Kristin Gholson, Rew Elliott Jewelry; Melissa Hull, Brag About It Hand Stamped Jewelry; Lisa Jacobs, Energy Shop Jewelry; Sienna Kittelman, Zoe and Piper; Kellie Kroplinski, Art Box Designs; Irina Kupryukhina, Beautyland; Emma Mann, Soap Cauldron; Fotini Marcopulos, Fotini Jewelry Designs; Joanne McKillip, JJewelry - Jewelry by Joanne; Catherine McDonald, Art by cMcDonald Photography; Michelle McLaughlin, MOTHERBORED; Kathy Messick, Kath's Elegant Accessories; Betty Miller, Magic Senses; Rachel Mulherin, Rachel Mulherin; Lizabeth Noeggerath, Hecho Por Liz; Aileen Parks, Girl by Aileen; Toni and Lily Perez, SimplyCaprine; Tara Rex, Taradara; Renee Rokero, Kolohe Gurl Jewelry; Tricia Samundsen, Scentability; Christi Schimpke, Minabea Jewelry; Tina Tang, Tina Tang Jewelry; Kristi Taylor, Got Sparkles; Heather Duby-Tharpe, Beadz and Bloomz and Caron Williams, Bubbles Bath Boutique.
The Artisan Group's Official Golden Globes Awards Event Guide detailing all participating members is available online.
To learn more about The Artisan Group and its upcoming celebrity gifting events visit the website, follow the Artisan Group on Facebook and Twitter and subscribe to The Artisan Group blog. Direct press inquiries to press(at)theartisangroup(dot)org.
ABOUT THE ARTISAN GROUP
The Artisan Group (http://www.theartisangroup.org) is an elite art promotions group representing talented small-business artisans at the best celebrity gift lounges. The organization provides a collective sampling of handcrafted products to celebrities and members of the press at top luxury gift lounges such as those leading up to The Academy Awards, The Golden Globes, The MTV Movie Awards and The Primetime Emmys. Membership in The Artisan Group is juried and by invitation-only. The Artisan Group also offers its members guidance in the areas of sales, marketing, social media and public relations.
The Artisan Group is in no way associated with MTV, The Academy of Motion Picture Arts and Sciences, The Hollywood Foreign Press Association or The Academy of Television Arts and Sciences.