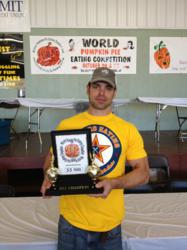 All Pro Eating has loudly proclaimed that this is the dawning of a new era in the world of Competitive Eating!
Madison, WI (PRWEB) January 08, 2013
In what is already being thought of as the most significant Competitive Eating announcement of 2013, All Pro Eating has officially introduced Jamie "The Bear" McDonald as the undisputed #1 Ranked Independent Competitive Eater in the World. All Pro Eating, the World's only recognized Independent Competitive Eating organization, declared Jamie McDonald Competitive Eating's Rookie of the Year in 2012 which was a year that saw him win five straight All Pro Eating sanctioned Competitive Eating Championships in addition to sixty other food eating contests and challenges.
In 2012, Jamie participated in five All Pro Eating Competitive Eating Championships where he won the titles of National Hamburger Eating Champion in Hamburg, PA; National Fried Mushroom Eating Champion in Kennett Square, PA; National Peach Fried Pie Eating Champion in Dallas, TX; National Oktoberfest Bratwurst Eating Champion in New York, NY and World Hands-Free Pumpkin Pie Eating Champion in Clarence, NY. At each event, Jamie established new and official All Pro Eating recognized eating records.
"With the introduction of Jamie not only as All Pro Eating's #1 Ranked Competitive Eater but also as who we believe is the World's #1 Independent Competitive Eater, All Pro Eating has loudly proclaimed that this is the dawning of a new era in the world of Competitive Eating!" stated Todd Greenwald, Chairman of All Pro Eating. Greenwald continued, "Jamie has clearly established himself as the man to beat at every Competitive Eating Championship where he is at and at every table where he eats. His Herculean strength is unmatched and his Zeus like appetite has not been seen for ages. I say let the naysayers fuel his motivation as he plans to make 2013 an epic year that will surely be one for the record books! Although Jamie is known as "The Bear" he brings the "Eye of the Tiger" to every Competitive Eating Championship that he attends and is clearly ready to prove that any discussion of Competitive Eating should include his name!"
When asked about his thoughts regarding his alignment with All Pro Eating, Jamie McDonald commented, "I am very excited about joining the ranks of All Pro Eating (APE). This direction allows me to compete with the top Independent Competitive Eating organization and still allows me to participate in many other events that I may choose. During my rookie 2012 APE year I competed in 5 APE sanctioned events and each was well run and fairly judged. Their Picnic Style Rules support my own style of eating and I look forward to a long and mutually beneficial relationship with APE as both the organization and I continue to grow in this amazing sport."
In addition to being featured in The Huffington Post, ESPN and The New York Daily News, Jamie has started his own website that follows his eating adventures along with a strong Facebook and Twitter presence.
About ALL PRO EATING: Founded in 2004, All Pro Eating Promotions is the World's most recognized Independent Competitive Eating organization and has sanctioned over 180 major Competitive Eating Championships and events throughout the world. All Pro Eating showcases "Picnic Style Rules" which were created and developed by All Pro Eating which strictly control how food is eaten competitively and highlight the Sponsor's food. All Pro Eating All Pro Eating Promotions' "Eatertainers" (event participants) along with their events and contests have been featured in all forms of major world-wide media. All Pro Eating Promotions is also home to the Nation's only Collegiate Competitive Eating sanctioning body – The National Collegiate Competitive Eating Association ("The NCCEA"). More information can be found at http://www.CompetitiveEaters.com