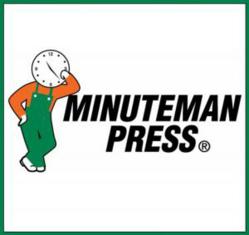 We'd love to help you set-up for your next conference or event. We can prepare your materials prior to your arrival with a no charge delivery, day or night.
Washington, DC (PRWEB) January 05, 2013
Minuteman Press was awarded the "Best of the Best" designation for excellence by Follow Media Consulting, Inc. in the category of Printing Services DC. This award signifies the continued commitment and dedication of the areas best in printing and document management services.
When it comes to business communications services, Minuteman Press can do it all. With a complete range of products and services at its disposal, they can help get a message out to customers, employees and vendors alike. Using the latest printing and document management technology, Minuteman Press can handle projects from start to finish. Their energetic and experienced staff is dedicated to delivering what is needed, when its needed.
Minuteman Press has a wide variety of products and services on printing and document management such as making of booklets and brochures, calendars, coupons, flyers, holiday cards and services such as cutting and designing, laminating, numbering, tape binding shrink wrapping and so much more. For further details on their services and products you can call them at 703 418 1700.
About Follow Media Consulting, Inc.
Named one of the best SEO companies by Jonas Marketing, Follow Media Consulting, Inc. is a rapidly growing worldwide firm of SEO, Social Media, and Mobile Marketing Professionals. Follow Media Consulting, Inc. headquarters is located in Richmond, VA. However, our professional team is networked across the world, with regional offices across the United States, in the United Kingdom, Canada, Australia, France, South Africa, the Philippines, and India.